HFDL
m

(3 intermediate revisions not shown)
Line 38:
Line 38:

* [http://www.coaa.co.uk/planeplotter.htm PlanePlotter] (Not a decoder but will show aircraft decoded by PC-HFDL)

* [http://www.coaa.co.uk/planeplotter.htm PlanePlotter] (Not a decoder but will show aircraft decoded by PC-HFDL)

* [http://www.saharlow.com/technology/sigmira/index.htm Sigmira]

* [http://www.saharlow.com/technology/sigmira/index.htm Sigmira]

+

==Frequencies in Use==

==Frequencies in Use==

-

Thanks to MT Utility World which had the text link. New entries are in '''bold'''<br>

+
-

ARINC System Table 35

+

to

+

the .''''''

-

;Notes

-

*1 = Panama City - alternate frequency for slot 10 is 21940

-

*2 = Panama City - alternate frequency for slot 6 is 2902

-

-

{| border="1" cellpadding="3" style="vertical-align:top;BORDER-COLLAPSE: collapse" colspan="2"

-

! Node ID

-

! Xmtr Name

-

! 1

-

! 2

-

! 3

-

! 4

-

! 5

-

! 6

-

! 7

-

! 8

-

! 9

-

! 10

-

! 11

-

! 12

-

! 13

-

! 14

-

! 15

-

! 16

-

! 17

-

! 18

-

! 19

-

! 20

-

|-

-

|01

-

|San Francisco CA

-

| 21934

-

| 17919

-

| 13276

-

| 11327

-

| 10081

-

| 8927

-

| 6559

-

| 5508

-

| 4672

-

| 2947

-

||||||||||

-

|-

-

|02

-

|Molokai, HI

-

| 21937

-

| 21928

-

| 17934

-

| 17919

-

| 13324

-

| 13312

-

| 13276

-

| 11348

-

| 11312

-

| 10081

-

| 8936

-

| 8912

-

| 6565

-

| 6559

-

| 5514

-

| 5463

-

| 4687

-

| 3434

-

| 3019

-

| 2947

-

|-

-

|03

-

|Reykjavik, ISL

-

| 17985

-

| 15025

-

| 11184

-

| 8977

-

| 6712

-

| 5720

-

| 3900

-

| 3116

-

||||||||||||

-

|-

-

|04

-

|Riverhead, NY

-

| 21934

-

| 21931

-

| 17952

-

| 17934

-

| 17919

-

| 13276

-

| 11387

-

| 11354

-

| 11315

-

| 10027

-

| 8912

-

| 8885

-

| 8831

-

| 6661

-

| 6652

-

| 6646

-

| 5652

-

| 5523

-

| 3428

-

| 3410

-

|-

-

|05

-

|Auckland, NZL

-

| 21949

-

| 17916

-

| 13351

-

| 11327

-

| 10084

-

| 8921

-

| 6535

-

| 5583

-

| 3404

-

| 3016

-

||||||||||

-

|-

-

|06

-

|Hat Yai, THA

-

| 21949

-

| 17928

-

| 13270

-

| 10066

-

| 8825

-

| 6535

-

| 5655

-

| 4687

-

| 3470

-

|||||||||||

-

|-

-

|07

-

|Shannon, IRL

-

| 11384

-

| 10081

-

| 8942

-

| 8843

-

| 6532

-

| 5547

-

| 3455

-

| 2998

-

||||||||||||

-

|-

-

|08

-

|Johannesburg, AFS

-

| 21949

-

| 13321

-

| 8834

-

| 4681

-

| 3016

-

|||||||||||||||

-

|-

-

|09

-

|Barrow, AK

-

| 21937

-

| 21928

-

| 17934

-

| 17919

-

| 11354

-

| 10093

-

| 10027

-

| 8936

-

| 8927

-

| 6646

-

| 5544

-

| 5538

-

| 5529

-

| 4687

-

| 4654

-

| 3497

-

| 3007

-

| 2992

-

| 2944

-

|-

-

|11

-

|'''Panama City PAN'''

-

||

-

|'''13264'''

-

|||||

-

|'''17901'''

-

|||||

-

|'''10063'''<sup>1</sup>

-

||||||||||

-

|-

-

|11

-

|'''Panama City PAN'''

-

||

-

|'''6589'''

-

|||||

-

|'''8984<sup>2</sup>'''

-

|||||

-

|'''5589'''

-

||||||||||

-

|-

-

|13

-

|Santa Cruz, BOL

-

| 21997

-

| 21988

-

| 21973

-

| 21946

-

| 17916

-

| 13315

-

| 11318

-

| 8957

-

| 6628

-

| 4660

-

| 3467

-

| 2983

-

||||||||

-

|-

-

|14

-

|Krasnoyarsk, RUS

-

| 21990

-

| 17912

-

| 13321

-

| 10087

-

| 8886

-

| 6596

-

| 5622

-

| 4679

-

| 2905

-

| 2878

-

||||||||||

-

|-

-

|15

-

|Al Muharraq, BHR

-

| 21982

-

| 17967

-

| 13354

-

| 11312

-

| 10075

-

| 8885

-

| 5544

-

| 2986

-

||||||||||||

-

|-

-

|16

-

|Agana, GUM

-

| 17919

-

| 13312

-

| 11306

-

| 11288

-

| 8927

-

| 6652

-

| 5451

-

|||||||||||||

-

|-

-

|17

-

|Telde, Gran Canaria, CNR

-

| 21955

-

| 17928

-

| 13303

-

| 11348

-

| 8948

-

| 6529

-

| 5589

-

| 2905

-

||||||||||||

-

|-

-

|}

[[Category:Aircraft Monitoring]]

[[Category:Aircraft Monitoring]]

[[Category:HF Topics]]

[[Category:HF Topics]]
---
Revision as of 03:02, 9 November 2011
What is HFDL?
HFDL is a HF data link protocol, defined in ARINC spec 635-3. The HFDL service is operated by ARINC as GLOBALink service through a worldwide network of HF stations.
The name is somewhat misleading, as HFDL actually describes a class of data signals; it is also referred to as HF ACARS.
Transmissions on HF are in USB on a sub carrier of 1440 Hz with a symbol speed of 1800 baud.
Modulation is 2-PSK, 4-PSK or 8-PSK with effective bit rates of 300, 600, 1200 or 1800 bits/sec.
PC-HFDL
PC-HFDL is a Windows software to decode HFDL data traffic and has been written by Charles Brain. Just feed the HF receiver speaker's output into the soundcard of a Windows PC. It can be downloaded from the HFDL Yahoo group listed below.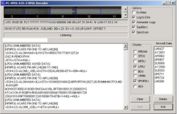 The best monitoring results will be achieved with the following PC-HFDL settings:
PREAM ON - to control the audio offset of the receiver
SPDU OFF - only needed temporarily ON to see the squitters of a new unknown ground station
MPDU ON - see the MPDU packets
LPDU ON - see the LPDUs within the MPDUs
BDU ON - see the BDUs
VERB ON - see more details
HFNPDU ON - see the routine position reports
HEX OFF - only needed for debugging purposes
So in short, with all options ON except SPDU and HEX, the complete session can be seen: LOG-ON of the aircraft to the ground station giving its 24bit ICAO-ID, the assignment of the 1byte sequence ID number to the given ICAO-ID by the ground station referenced in all subsequent traffic, clear distinction of MPDU packets containing more than just one LPDU, and full traffic details.
The HFDL Yahoo group can be found here. Version 2.042 (which is Vista compatible) can be downloaded from this stub page
Other Packages known to support HFDL
Frequencies in Use
The current version (Nov 8 2011) of the HFDL database table is 48.
The file can be downloaded from here as a zip file. This means that you must use a utility like WinZip or 7-Zip to extract it. Don't use Windows Explorer to uncompress it as it may get corrupted.

The zip file contains an Excel spreadsheet with the frequencies, along with the .dat system table file for use by the registered version of PC-HFDL. It will not work with the free version.