Pro-162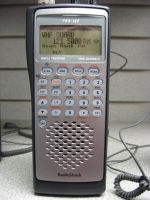 The Pro-162 was manufactured by Uniden (Japan) for Radio Shack. The Pro-162 is the handheld version of the Pro-160, simillar to the Pro-528 and uses the same software and cables. Note: This radio can not be computer controlled.
General Specifications
Frequency
Frequency Range (Step)

25-54Mhz (5khz)
108-136Mhz (12.5khz AM Mode)
137-174Mhz (5khz)
216-224.9950Mhz (5khz)
225-400Mhz (12.5khz AM Mode)
400-512Mhz (6.25khz)
764-775.9875Mhz (12.5khz)
794-956Mhz (12.5khz)
1240-1300Mhz (12.5khz)
Features
Motorola Rebanding supported?

YES

Enter custom tables

To find information about rebanding, join the PRO-160/162 Yahoo group listed below. In the group FILES section (left side of page), click RE-BANDING PROGRAMMING.

1,000 Channels with 20 channel-storage banks, 50 channels per bank
Multi-mode trunking (VHF, UHF, 800, 900, Motorola I/II/IIi, EDACS, LTR)
Motorola Control Channel Only scanning option in menu with selectable plan for 800/900 mHz systems but only one site or system can be programmed per bank
Scan rate 97cps/Search rate 90 sps (260 Hypersearch)
Signal stalker I (with 10 autostore channels) & Selectable Voice Interrupt (AKA: Close Call Do Not Disturb)
Triple-Conversion Circuitry
10 ID lists, 10 IDs, 100 per bank; 4000 IDs total
Alpha-tags
Weather Search
Weather Alert Indicator
SAME-FIP Digital Weather Alert
1 programmable Skywarn channel
Two Second Scan Delay
ID Delay
EDACS Partial Talkgroups
Lock Out Function
200 Search Lockouts
10 Priority Channels
10 Priority IDs per bank
Auto Backlight (light turns on when a signal is received)
Four Service Banks - Police, Aircraft, Ham, and Marine
Hypersearch/scan
10 search banks
UHF Military Airband
Direct Search
Key Lock
Data Signal Skip (skips no-modulated or data signals)
Motorola Disconnect Tone Detect (scanner tunes into data trunk channel when it receives a disconnect transmision)
Status Bits
Manual Access
Liquid Crystal Display
Display Backlight
Key Backlight
BNC Antenna connector
Memory Backup
Programming from PC/MAC (not controllable)
Key tones (for correct entry or different tones for errors)
Battery Save ( a mode to preserve power if no signal appears for 5 seconds)
4 AA alkaline/Ni-MH batteries
RR System Compatibility
This scanner is compatible with the following Trunking System Types and System Voices used in the RadioReference Database, of course you must verify that the scanner will cover the appropriate frequency range:
System Types:

Motorola Type I
Motorola Type II
Motorola Type IIi Hybrid
Motorola Type II Smartnet
Motorola Type II Smartzone
Motorola Type II Smartzone Omnilink
EDACS Standard (Wide)
EDACS Standard Networked
EDACS SCAT
LTR Standard
Reference
To reset the scanner (wipe ALL programming), press (and hold) PSE, 2, and 9 and then power the scanner up. You will know it's doing it by the phrase 'Intializing...' being displayed.
To display the firmware version: press (and hold) 2,4, and 9 and then power the scanner up. You will know if it worked by the model, version, and checksums (in hexadecimal) being displayed. Note: the scanner seems to still function while displaying this information, and you have to power cycle to get out of this screen.
Reviews and User Opinions
Related Links
Supporting Software
USB Cables and Drivers
Yahoo Groups and Message Boards
FCC Type Acceptance
eBay Listings

Return to Radio Shack Scanners