AR3000
From The RadioReference Wiki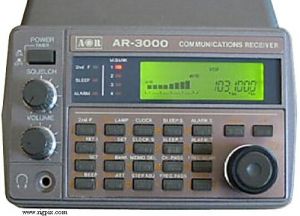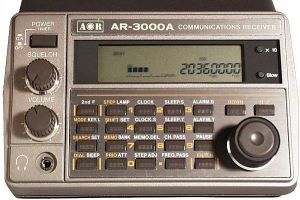 This page lists links, related pages and software support for the AOR AR3000-series desktop receiver. The technical specifications for the AR3000A can be viewed here (copied from Universal Radio).
General Specifications
100kHz-2036Mhz range
AM, NFM, WFM, USB, LSB, CW (WEFAX w/3000A)
400 channels in 4 banks
Scan rate 20cps (30-50 w/3000A)
Selectable steps from 50Hz-100kHz
Signal meter
Computer control
4 search banks
Clock/timer (alarm w/3000A)
1 priority channel (4 w/3000A)
Attenuator
Automatic tape recording
Filters and other mods
Reviews and User Opinions
Related Pages
Supporting Software
NOTE: Due to a firmware change, software that supports the AR3000 may not support other versions. Be sure to check before purchasing or downloading.
These packages only support the AR3000A
Yahoo Groups and Message Boards (software and receiver support)
eBay Listings

Back to AOR Radios