BC246T
From The RadioReference Wiki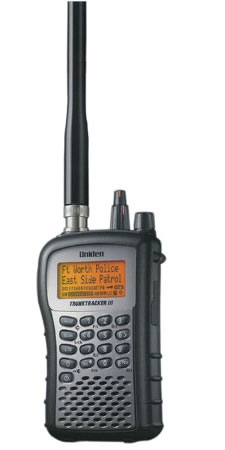 Uniden's analog-only portable Trunktracker scanner with Dynamic Memory Architecture.
Specifications
Limits
Channels: 1600 typical, 2500 maximum
Systems: 200 maximum
Groups per system: 20 maximum
Talkgroups per trunked system: 200 maximum
Scan Rate: 100 channels per second (conventional mode)
System Quick Key range: 0-9
Group Quick Key range: 0-9
Custom Search Ranges: 10
Preprogrammed Service Search Bands: 10
Frequency Coverage
25-54 MHz
108-174 MHz
216-225 MHz
400-512 MHz
806-956 MHz
1240-1300 MHz
Features
Rebanding supported? YES
TrunkTracker III with Control-Channel Only scanning and I-Call monitoring
SAME Weather Alert
LCD Backlight
Priority Scan with Priority Plus
16 character text tagging for each system, group, channel, talkgroup, search range, and SAME group
Configurable scan delay
Strong signal attenuation
Upgradeadable firmware
Frequency autostore and Talkgroup ID autostore
Broadcast signal ignore while searching (TV and radio station frequencies, pagers, etc)
PC Control - Includes a PC Cable So You Can Transfer Information into Your Scanner Using Your Computer (Demo Software or Purchase direct from Uniden.)
Power requirements
2 AA batteries
6V DC, 500mA external power
Antenna Connector
Modifications
Reviews and User Opinions
Related Pages
Supporting Software
TCL/TK Packages
Windows Packages
Yahoo Groups (software and receiver support)
Usage Tips
If you have a tip/trick, please contribute!
Don't forget that pushing down on the scroll knob is the same as pushing the "Yes"/"E" button.
Pressing the on/off button briefly will take you out of the menu system.
eBay Listings

Return to Uniden Scanners