Difference between revisions of "BC350C"
From The RadioReference Wiki
m

m (moved eBay widget to separate page)

Line 17:
Line 17:
 

*[[Installing a Discriminator Tap on a BC350C]]

 

*[[Installing a Discriminator Tap on a BC350C]]

 
 
−

== eBay Listings ==

+

====

−

<ebay>BC350C</ebay>

+

BC350C

 
 
 
 
---
Revision as of 15:41, 18 March 2016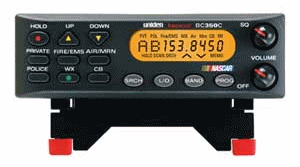 800MHz Scanning with Mobile Operation
Features
100 User Programmable Memories - Lets you quickly store interesting frequencies for rapid recall.
Frequency Coverage (BC350C) - Includes the most interesting "action" bands where you can hear police, ambulance, fire, amateur radio, public utilities, weather, and more. 25-54,108-174,406-512,806-956 (excluding cellular)
Preprogrammed Service Search - Makes finding interesting active frequencies even easier.
Search Lockouts - Lets you lock out frequencies that have continuous or uninteresting communications so that searching is faster.
Backlit Display - At the push of a button, our unique luminescent LCD screen is backlit so messages are easily read in low-light situations
100 ch/sec Scan Speed (max)
AC Adapters, DC Power Cable and Automotive Power Outlet Plug - More options for supplying power to your scanner at home or in your car.
Related Pages
BC350C Scanners for Sale

Return to Uniden Scanners