BC780XLT
From The RadioReference Wiki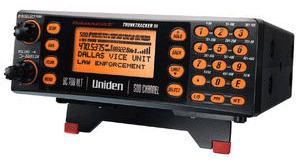 500 Channels/10 Preprogrammed Service Searches/2 Line Alpha Display/TrunkTracker III/S.A.M.E. Weather Alert
General Specifications
Features
Can be updated to support Rebanding? NO
Coverage:

25-512 MHz
806-956 MHz
1240-1300 MHz

I-Call monitoring
VFO Control
100 cps scan rate
500 Channels in 10 Banks
10 Priority Channels with Priority Plus
Priority IDs with Priority Plus IDs
TrunkTracker III with Control-Channel Only scanning and I-Call monitoring
SAME Weather Alert
Adjustable scan/search delay/resume
10 scan lists with 10 ID's each per bank
Motorola Control Channel Only scanning option in menu with selectable plan for 800/900 mHz systems but only one site or system can be programmed per bank
Motorola Status Bits
EDACS partial talkgroup IDs
16-character Alpha Tagging - Bank Channel and Search Range
Adjustable scan/search delay/resume
Repeater Reverse
SAME Weather Alert - Specific Area Message Encoding - During a NOAA Weather or Emergency Alert, a code for your specific location will alert you to severe conditions in your immediate area.
RS232 serial port (DB9) for computer control, cloning
Tape-out and selectable record
Strong signal attenuation
12 Preprogrammed Service Searches
10 Custom search ranges
Auto store
Selectable Steps
Base/Moble Design
Full Backlit Controls
Full Frequency LCD Display
Data skip
RR System Compatibility
This scanner is compatible with the following Trunking System Types and System Voices used in the RadioReference Database, of course you must verify that the scanner will cover the appropriate frequency range:
System Types:

Motorola Type I
Motorola Type II
Motorola Type IIi Hybrid
Motorola Type II Smartnet
Motorola Type II Smartzone
Motorola Type II Smartzone Omnilink
EDACS Standard (Wide)
EDACS Standard Networked
EDACS Narrowband (Narrow)
EDACS Narrowband Networked
LTR Standard
Power Requirements
12/13.8V DC 700mA Center Tip POS

Uniden Part No. AD580U - Ac Adapter (13.8V 700mA)
RS Enercell AC Adapter Cat. No. 273-316
RS Adaptaplug Type: "M" (Navy) 5.5mm O.D. 2.1mm I.D.
Owner's Manual
Modifications
Reviews and User Opinions
eHam
UKMidlandscanner
Related Pages
Supporting Software
DOS Software
Linux Software
Other OS Software
Windows Software
Mailing lists and web forums
RadioReference
StrongSignals
Yahoo! Groups
eBay Listings

Return to Uniden Scanners