BC895XLT
From The RadioReference Wiki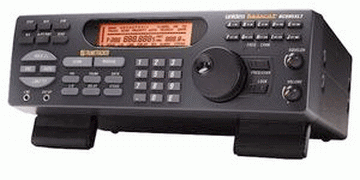 300 Channel TrunkTracker/10 Banks/10 Priority Channels
The industry's first Trunk Tracking base scanner. Trunk Scan and Search - Monitors the following systems: Motorola Type I, Type II, Type IIi Hybrid. This scanner only trunks 800 Mhz Analog systems.
General Specifications
Rebanding supported? NO
Motorola 800MHz Trunking only
5 scan lists with 10 ID's each per bank
300 Channels in 10 banks of 30 each
100 cps scan rate
29-54, 108-174, 216-512, 806-956 range
Includes 800 MHz & Aircraft
7 Preprogrammed Service Searches
Programmable Search - Allows you to set the upper and lower limits of specific frequency range for easier searching.
One Touch Weather
Signal Strength Meter
10 priority channels
Weather alert
Auto store
Auto record
Auxiliary Tape Output
Turbo Scan
VFO Control Knob
Trunk Delay
Trunk Lockout
NOTE AM reception of military air in the 138-144 mhz is not possible due to firmware limitations.
Owner's Manual
Modifications
Item 11: Squelch Modification
Reviews and User Opinions
Related Pages
Supporting Software
DOS Packages
Windows Packages
These programs can be found in the 895 Yahoo groups' files area:

EZ-Prog895
Freetracker
PC895
Softrol
Yahoo Groups and Mailing Lists
eBay Listings

Return to Uniden Scanners