BCD436HP
From The RadioReference Wiki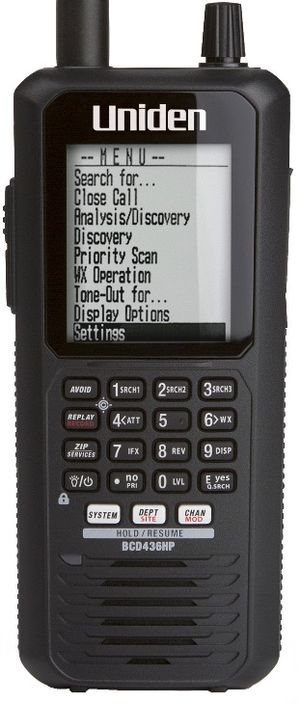 The BCD436HP is the first scanner to incorporate the HomePatrol-1's ease of use in a traditional handheld scanner. Simply enter your zip code, and the BCD436HP will quickly select and scan channels in your local area. Here is a quick rundown of the BCD436HP's major features. Available January 2014.
Specifications
Flexible Easy Channel Selection using Zip Code or GPS and Service Types - just pick the kinds of channels you want to hear and tell the BCD536HP where you are and let it do the rest.
Range Control - Lets you set how far out from your current location the scanner will search for Channels in Favorites Lists and the Database. Location precision for Departments and Sites that allows you to define a location and range using rectangles instead just of a single circle.
Serial GPS input for location-based scanning using the Uniden GC-GPSK or other compatible GPS receiver.
Complete Front-Panel Programmability - create custom Favorites Lists either using systems from the main database as a starting point or program your systems from scratch.
Included Sentinel Software makes database and firmware updates simple. Also allows you to create, edit, and manage your Favorites Lists.
USB PC Connectivity.
Discovery Modes help you find new channels on trunked systems and frequency ranges.
Analysis Modes include Band Scope, RF Power Plot, Trunked System Analysis, and EDACS/LTR LCN Finder.
Flexible Scanning - scan from any combination of the main database and Favorites Lists.
Instant Replay - Plays back up to 240 seconds (4 minutes) of the most recent transmissions.
Audio Recording - Capture transmissions for later playback.
4 Gigabyte microSD card holds the entire USA and Canada database of radio systems, plus leaves room for hundreds of hours of audio recording.
TrunkTracker V with support for APCO Project 25 Phase I and Phase II, X2-TDMA, Motorola, EDACS, and LTR Trunked Radio Systems.
Multi-Site Trunking - Lets you program the scanner to share trunked system IDs across multiple sites without duplicating IDs.
P25 One-Frequency Trunking - The scanner can follow individual talk groups on P25 single-frequency systems that use both NAC and TGID's for squelch control and user identification.
100 Quick Keys for Favorites Lists, Systems, and Departments.
Programmable Alert LED with 7 colors and 3 patterns alerts you when a channel becomes active.
Encryption Muting - APCO P25 encrypted voice is muted automatically.
System/Channel Number Tagging - Number tags allow you to quickly navigate to a specific Favorites List, System, or Channel.
Easy Scan Control using the dedicated System, Department and Channel Hold buttons.
Custom Search - lets you program up to 10 search ranges.
3 Quick-Access Search Keys
Search with Scan for Custom Searches.
Quick Search - Allows you to start searching at the displayed frequency, or enter a frequency and start searching.
Temporary Avoid lets you quickly silence unwanted systems, departments, channels, or search frequencies while allowing you to restore them by cycling power.
Negative Channel dropout delay (forced resume) adjustable to 0-2,5,10,30, -2, -5, -10 seconds.
64 character text tagging for each system, site, department, channel, talkgroup, search range, Tone-Out, and SAME group.
Date/Time indication on display with time stamping for recordings.
Channel Alert

Independent Alert Tone Volume – lets you set the volume level of the following tones: Key Beep, Emergency Alert, Channel Alert, Tone-Out hit, and Close Call Alert.

Trunked and Conventional Channel Priority with Priority Do-Not-Disturb.

Adjustable Priority check interval.

Close Call, with Close Call Do Not Disturb, Close Call Priority (or Primary), and Close Call Temporary Store.
NOAA Weather Alert with SAME.
Weather Alert Priority.
Signal Strength display.
Analog and Digital AGC
Fire Tone Out alert with two-tone paging with up to 32 tone slots.

Also see the Fire Tone Out article.
Fire Tone Out Search - built-in frequency counter displays the received tones.

Individual channel volume offset.
Broadcast signal ignore while searching (TV and radio station frequencies, pagers, etc) with 10 custom bands.
Intermediate Frequency Exchange - changes the IF used for a selected frequency to help avoid image and other mixer-product interference on a frequency.
64 x 288-Pixel Dot-Matrix Display.
Backlit Display and Keypad.
Backlight-on-Squelch option allows the backlight to remain on during an entire transmission.
Adjustable Band defaults.
Rotating Belt Clip.
Rugged construction with Rubber Side and Bottom Impact areas to improve impact resistance.
Select/Volume/Squelch multi-control.
Side-actuated Function and Menu controls.
3 AA Battery Operation provides up to 8 hours of operation.
Built-in Battery Charger (BCD436HP only) - Allows you to charge the batteries in the scanner from any USB port.
192 x 160-Pixel Dot-Matrix Display.
SMA-type antenna.
Printed manual in the box with online updates.
RR System Compatibility
System Types:

Motorola Type I
Motorola Type II
Motorola Type IIi Hybrid
Motorola Type II Smartnet
Motorola Type II Smartzone
Motorola Type II Smartzone Omnilink
Motorola Type II VOC
EDACS Standard (Wide)
EDACS Standard Networked
EDACS Narrowband (Narrow)
EDACS Narrowband Networked
EDACS SCAT
EDACS ESK (not ProVoice)
LTR Standard
Project 25 Phase I
Project 25 X2-TDMA
Project 25 Phase II
System Voices:

Analog
Analog and APCO-25 Common Air Interface
APCO-25 Common Air Interface Exclusive
Supporting Software
Related Pages
External Links
Images
Videos
FAQ
When will the radio be available for purchase? 1st week of February 2014
I have more questions. Where else can I look for answers?
I'm having trouble receiving P25 systems. Is there a fix?
Where do I go to register my new scanner(s)?
Yahoo Groups and Message Boards
RadioReference
Yahoo! Groups
HomePatrol Community
Return to Uniden Scanners