Difference between revisions of "Casa Grande Police Department (AZ)"
From The RadioReference Wiki
---
Revision as of 03:29, 4 June 2012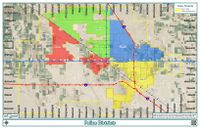 The community of Casa Grande is located in Southern Arizona between Phoenix and Tucson on Interstate 10. Casa Grande has a population of about 48,000 and has 77 sworn officer positions. The Patrol Division is comprised of 5 patrol teams. Each team is staffed with a Sergeant, a Police Corporal and Police Officers. A civilian Police Service Specialist is assigned to each patrol team to perform duties such as prisoner processing, not requiring a sworn Officer.
Beat Map
Radio Codes
Coming Soon
101:Female 103:Headquearter
Variables
| | | |
| --- | --- | --- |
| ! Code | ! Effect | ! Notes |
| {{CURRENTWEEK}} | 18 | |
| {{CURRENTDOW}} | 6 | Monday = 1, Tuesday = 2, etc., but Sunday = 0 |
| {{CURRENTMONTH}} | 05 | |
| {{CURRENTMONTHNAME}} | May | |
| {{CURRENTMONTHNAMEGEN}} | May | |