Central New York Interoperable Communications Consortium (CNYICC)
From The RadioReference Wiki
Multi-County
Public Trunked Radio System


Name
Central New York Interoperable Communications Consortium (CNYICC)
Owner
New York State
Owner Type
Public
Counties
Cayuga, Madison, Onondaga, Oswego, Oneida, Jefferson
State
New York
Country
United States

---

System Details
Band
UHF, VHF
Type
Project 25 Phase I
ID
2AE
WACN
BEE00
NAC
2A0 (Onondaga Simulcast), 2A4 (Oswego Simulcast), 2A5 (Oneida Simulcast), 2A6 (Jefferson Simulcast), 2A7 (Madison Simulcast), 2A8 (Cayuga Simulcast)

---

FCC Callsign(s)
WQDY448, WQKJ409, WQKK218, WQKP897, WQLN992, WQLT768, WQLT878, WQLU267, WQLU268, WQNB579, WQOJ786, WQOJ787, WQXS587, WQYF524, WRCC846

---

System-specific links
Database
FCC Site Map
Forum
RR Site Map

---

Other Resources
Trunktracking
FAQ
Trunktracking
Glossary

---

Wiki FAQ
MediaWiki
QuickRef
PDF Card
Wiki Home → Collaboration Gateway → United States → New York → Cayuga, Madison, Onondaga, Oswego, Oneida, Jefferson Counties → Central New York Interoperable Communications Consortium (CNYICC) TRS

Welcome to the Central New York Interoperable Communications Consortium (CNYICC) collaboration article, a Multi-County Public Trunked Radio System located in Cayuga, Madison, Onondaga, Oswego, Oneida, Jefferson Counties, New York, United States.
This is where you, the user, may index any articles you develop for scanning related topics for this Trunked Radio System.

The Central New York Interoperable Communications Consortium is a multi-county APCO Project 25 compliant project designed to function as an "interoperable land mobile radio communications system, one that immediately supports Fire, EMS and Law Enforcement, and whose design will support others, such as highway, schools, water, and other vital utility and service functions." Jefferson County is currently in the built-out phase of it's UHF P25 system and is in the process of converting from it's existing VHF/Low-band system to the Consortium's system.
Onondaga County Interoperable Communications System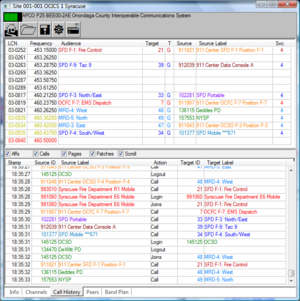 The Onondaga County Interoperable Communications System is a 15 site Motorola APCO P25 simulcast trunked radio system, currently 13 frequency pairs are available for voice communication. Testing of the system began in late 2009 and the Syracuse Police Department became the first agency to go live on the system on February 2, 2010. Onondaga County police agencies followed a month later, with County Fire and EMS agencies approximately two months later. The City of Syracuse Fire Department was the last county public safety agency to switch over to the system in June of 2010.
Currently all public safety radio operations for Onondaga County are conducted on this system, along with DPWs, Highway Departments, School Districts, and higher education such as Syracuse University and SUNY ESF.
Rural/Metro Medical Services (the primary EMS provider for the city of Syracuse) retained their own private VHF radio system independent of the county 911 Center until 2016. Rural/Metro's successor, American Medical Response transitioned to the OCICS for dispatching and tactical operations, while still maintaining a dispatch operation independent of, but in conjunction with, the Onondaga County Department of Emergency Communications.
Day to Day Operation
Law Enforcement
Police agencies on the system are dispatched from dedicated area talkgroups (3 for county police agencies, and 2 for Syracuse city police). Larger scale events (hostage situations, chases, etc.) are often moved to "Channel 1" (TG 31 for the City of Syracuse, TG45 for the county) to avoid disruption of routine dispatch operations. Additional tactical channels are assigned as needed, which are typically monitored by an additional dispatcher.
County Fire
County Fire and EMS are dispatched from 'Fire Control' on talkgroups 1 and 7 respectively. Incidents that require a dedicated operations channel are assigned one of 10 tactical 'tac' channels in the following order: 3, 4, 6, 8, 9, 10, 11, 12, 13, 2. Tac-2 (TG 2) is reserved for communications for events not requiring the assignment of a dedicated talkgroup, and as such is assigned last. Channel 5 'CFC Command' (TG5) is utilized for on-scene command to communicate with the 911 center, without disrupting dispatching operations on channels 1 and 7. There is also a UHF "local" channel, Channel 15, for point-to-point communication in area that OCICS has trouble communicating on, such as large warehouses, steel structures, etc.
Syracuse Fire
City of Syracuse Fire dispatch assigns operations channels based upon the District Chief assigned to the alarm. Channels 2 and 12 for Car 2's first due; channels 3 and 13 for Car 3's first due; and channels 4 and 14 for Car 4's first due. These pairs correspond to talkgroups 22, 23, and 24 respectively. Unlike the County, a second city fire dispatcher will regularly monitor the operations channels directly for any in-progress alarms or incidents.
The assignment of two channels represents a subtlety in the programing of SFD Radios: channels 2, 3, and 4 correspond to three UHF simplex frequencies which are used as direct talk fireground frequencies (the Syracuse Fire Department expressed concern about the ability of the TRS to provide adequate fireground coverage during the design phase of the system). Each of the District Chief's vehicles contains a repeater which repeats the simplex frequency out to the TRS on the appropriate talkgroup. Channels 12, 13, and 14 are direct access channels to TGs 22, 23, and 24.
Syracuse Fire events that are not assigned a district chief, but require an operations channel (all district chiefs already on calls, stuck elevator, etc.) are assigned channels 7 (TG27), 8 (TG28), or 9 (TG26). As of July 1, 2022, the ARFF responsibilities have been transferred to the 174th ATKW, and staffed by both civilian DoD firefighters, as well as "traditional" National Guardsmen.
As with County Fire, Syracuse Fire also has a "Command" channel (TG25) that allows for communication to the 911 center without taking up airtime on a dispatch or operations channel.
Other Agencies
Airport Rescue and Fire Fighting for the Syracuse Hancock International Airport has been taken over by the 174th Attack Wing, stationed at the Hancock Field Air National Guard Base (co-located at the Syracuse Airport). As of now (7/1/22) it appears that the communication for on-field emergencies are staying with the SFD ARFF Tac, TG29.
There are also numerous other channels on the system that assist Public Safety Agencies with day-to-day operations. The CNYICC includes a "Fire Intercom" (TG 312) and "Law Intercom" (TG311) that allow surrounding County 911 centers to communicate over the radio system rather than utilizing phone systems. Other counties not utilizing the CNYICC, like Lewis and Cortland, have digital patches from their systems.
Municipalities may also have channels on the system for DPW, Water, Highway, and School Districts. (These vary by area)
For large scale events such as the Great New York State Fair (which typically runs from mid-third week in August through Labor Day) or music events at the St. Joseph's Amphitheater at Lakeview, there are specialty "Event" channels (TG67 and TG68) that are able to be used for event safety and security without tying up day-to-day operations on the main law enforcement and EMS talkgroups.
The Great New York State Fair is a bit of an oddity, as the Onondaga County 911 system has only a small contribution to the fair safety and security. All Fair Security is handled by the New York State Police, which are special detailed from troops throughout the state for the duration. This includes Patrol, BCI, SORT, and others. Medical for the Fair is handled by American Medial Response, in partnership with Upstate University Hospital. Fire Protection is contracted out by the State to the Solvay Fire Department, which provides a Staffed Class-A Engine for the entire duration of the fair, on the grounds. They are provided a Tactical Channel, typically CFC TAC 11, for their use on the Fairgrounds. Solvay is assisted/complemented with NY State Fire (Office of Fire Protection and Control)
---
Oswego County
Law Enforcement
County law enforcement agencies, with the exception of the Cities of Oswego and Fulton are primarily dispatched from one county-wide Law dispatch. Various towns and villages maintain patrol units, and are supplemented by the Oswego County Sheriff's Office or the New York State Police. All agencies maintain "Admin" channels, which allow for non-emergency transmissions between agency units.
The Cities of Oswego and Fulton, along with SUNY Oswego University Police have their own dispatch channels; Fulton and Oswego are dispatched by the County 911 Center, while University Police maintains their own, separate communication center.
The United States Coast Guard and Border Patrol both operate on the system fairly regularly, and also have their own operational channel.
Fire/EMS
Fire and EMS dispatch is setup in a unique way, the dispatcher simulcasts on both Fire Dispatch (TG 8046) and EMS Dispatch (TG 8039), however individual units only transmit on their own channel. For example, an EMS unit will only transmit on TG 8039 and you will not receive it on TG 8046, but the dispatcher's reply will be on both channels.
Alerting is done via a UHF simulcast to 460.11250MHz with two-tone paging.
County-wide, there are a number of 'on-network' tactical channels, in addition to an admin channel for the County Fire Coordinators. In addition, each fire and EMS agency has an "Ops" channel, which are (tactically) used for nearly everything except structural assignments. Typically, while en-route to a scene, communication will be done on a "on-network" channel, and on-scene operations are done on an "off-network" UHF channel.
Other Agencies
Many local DPW/Highway departments utilize system radios and talkgroups, along with County Highway and Waste. The Oswego Port Authority and SUNY Oswego have talkgroups on the system as well.
The two Nuclear Power Facilities in Oswego County do not operate on the P25 system, but can, when and if needed in conjunction with the County Emergency Management Office.
---
Madison County
---
Cayuga County
---
Oneida County
---
Jefferson County
As of February 2022, Jefferson County's system is online and being utilized by police, fire, EMS, County Highway, and some local municipalities. In Mid-February, EMS agencies began using this system for ambulance-to-hospital communications.
Watertown City Fire is still primarily operating on their legacy VHF system, but there is an active patch to their CNYICC talkgroup.
---
Broome County
As of February 2022, Broome County is in the process of building out their P25 system, replacing over 12 different VHF, UHF, and Low Band radio systems. FCC Licenses have been granted and the towers are built, but the system is still in the testing and fitting out stages.
---
Other
Custom Band Plan
A Custom Band Plan that may have to be set in scanner to initially receive any CNYICC traffic Band Plan Settings Thread. Also, please review the Simulcast Distortion for more info.
Related Links

Return to Wiki page: Trunked Radio Systems (NY)