Difference between revisions of "Clinton County (OH)"
From The RadioReference Wiki
Line 59:
Line 59:
 
 
 

==County law enforcement codes and signals==

 

==County law enforcement codes and signals==

 
+
 
+
 
+
 
 
 

<pre>

 

<pre>
---
Revision as of 11:34, 1 June 2009
Welcome to the Clinton County Ohio collaboration article. This is where you, the user, may index any articles you develop for scanning related topics for your area.
Clinton County
Clinton County is located n southwestern Ohio. It was formed from sections of Highland and Warren Counties in 1810. It was named in honor of George Clinton, one of the Founding Fathers of the United States.

The City of Wilmington is the largest municipality and county seat. The are eight villages and thirteen township in the county, along with several unincorporated areas.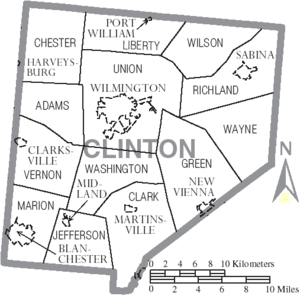 VILLAGES:
   Blanchester	     Midland
   Clarksville	     New Vienna
   Lynchburg	     Port William
   Martinsville    Sabina

TOWNSHIPS:
   Adams	Liberty	   Vernon
   Chester	Marion	   Washington
   Clark	Richland   Wayne
   Greene	Union	   Wilson
   Jefferson

Public Safety Communications
The public safety communications for the county moved from VHF low band for fire and UHF for police to a standard EDACS system some years ago. As of May 15, 2009 the EDACS system is in the process of rebanding. The new frequencies have been added behind the old ones in the LCN order. Expect the old frequencies to be removed once rebanding is complete.
CLINTON COUNTY CONVENTIONAL FREQUENCIES
County Fire Districts
Clinton County is divided into nine fire districts, all use the county EDACS system. 33.9400 is still used by some agencies for station alerting.
District  1    Wilmington
District  2    SRWW Joint Fire District 2 (Sabina)
District  3    Clarksville
District  4    Martinsville / Clark Twp
District  5    Chester Twp / New Burlington    
District  6    Clinton / Highland Joint Fire District  (New Vienna)
District  7    Clinton South Joint Fire District  (Midland)
District  8    Blanchester / Marion Twp
District  9    Port William

County law enforcement codes and signals
Clinton County uses a customized version of the Buckeye State Sheriff's Association (BSSA) Codes.
CLINTON COUNTY, OHIO SHERIFF'S OFFICE SIGNALS				
				
1	CONTACT SHERIFF		        50	ROBBERY
2	ACCIDENT (PROPERTY DAMAGE)	50A	ROBBERY IN PROGRESS
2A	ACCIDENT (HIT/SKIP)		51	CANNOT ANSWER
3	CONTACT CHIEF DEPUTY		52	SHOOTING
4	ACCIDENT (INJURY)		52A	ACCIDENTAL SHOOTING
4A	ACCIDENT (FATAL)		52B	SHOTS HEARD
5	CONTACT HQ		        53	TRAFFIC JAM/ROAD BLOCK
6	AIRCRAFT CRASH		        54	STABBING
6A	FORCED LANDING		        55	CIVIL DEFENSE
7	REGISTRATION ON FILE		56	STOLEN VEHICLE
7A	STOLEN FILE CHECK (REQUEST)	57	STOPPING VEHICLE
8	ASSAULT		                58	SUICIDE
9	INVESTIGATE COMPLAINT		58A	ATTEMPTED SUICIDE
10	ASSIST OTHER UNIT		59	DISABLED VEHICLE
11	ARREST RECORD CHECK (REQUEST)	59A	ABANDONED VEHICLE
12	BURGLARY		        60	SUSPICIOUS PERSON
12A	BURGLARY IN PROGRESS		60A	SUSPICIOUS VEHICLE
13	SPECIAL DETAIL		        61	CRUISER DISABLED
13A	SPECIAL ASSIGNMENT (NO RADIO)	62	TRAFFIC DETAIL
14	BAD CHECK/FORGERY		63	TIME CHECK
15	WARRANT		                64	VANDALISM
15A	CIVIL PAPERS		        65	HOUSE CHECK
16	DEAD ON ARRIVAL		        66	ESCAPE OR JAIL BREAK
17	CONTACT PARTY IN PERSON		67	UNABLE TO COPY/CHANGE LOCATION
18	DOG BITE		        68	ALARM DROP
19	CONTACT PARTY BY PHONE		69	UNABLE TO CHANGE LOCATION
20	DOMESTIC DISPUTE		70	BOMB THREAT
20A	NEIGHBOR DISPUTE		71	LEADS ARE DOWN
20B	LANDLORD/TENANT DISPUTE		72	MENTAL
21	PRISONER		        73	PAGE (1401,02,03)
22	DROWNING		        74	TRESPASSING
23	OFF AIR TO EAT		        74A	HUNTERS
24	DRUNK		                75	REFERENCE PREVIOUS TRAFFIC
24A	DRUGS		                75A	DISREGARD PREVIOUS TRAFFIC
24B	DRIVING UNDER THE INFLUENCE	76	KIDNAPPING OR ABDUCTION
25	RETURN TO HQ		        77	CALL YOUR RESIDENCE
25A	TROUBLE ON STATION		78	CHEMICAL SPILL
25B	RETURN TO HQ (JAIL)		78A	GAS OR AMMONIA LEAK
26	FIGHT		                79	SWITCH CHANNEL (A,B,C,D)
27	EMERGENCY RUN		        80	DEER KILL (SHOT)
28	FIRE		                81	DELIVER MESSAGE
28A	EXPLOSION		        82	CHILD ABUSE OR NEGLECT
29	SQUAD OR AMBULANCE REQ/DISP	83	DOG TO PICK UP
30	GAMBLING		        84	TELEPHONE HARASSMENT
31	WRECKER REQUIRED		84A	TRANSPORT
32	HOMICIDE		        85	ANIMALS ON ROADWAY
33	CAR IN SERVICE		        86A	ANIMALS RUNNING LOOSE
34	JUVENILES		        87	RECOVERED PROPERTY
35	ON PATROL		        88	TRAIN DERAILMENT
36	LARCENY		                89	KEYS LOCKED IN VEHICLE
37	CAR OUT OF SERVICE (OFF AIR)	90	DISORDERLY CONDUCT
38	MISSING PERSON		        90A	VIOLENT PERSON
38A	RUNAWAY JUVENILE		91	TRASH DUMPING
39	GIVE LOCATION		        91A	DEBRIS ON ROADWAY
40	MAN WITH A GUN		        92	ANIMAL KILL BY DOGS
40A	MAN WITH A KNIFE		93	(OPEN)
41	ONE UNIT IN RADIO CONTACT	94	FAILURE TO PAY
42	NATURE UNKNOWN		        95	(OPEN)
43	HOME		                96	RECKLESS OPERATION
44	OFFICER IN TROUBLE		96A	DRAG RACING
45	CONTACT NEWS MEDIA		97	(OPEN)
46	PROWLERS		        98	OPEN DOOR
47	TAKE REPORT		        98A	OPEN WINDOW
48	RAPE		                99	EMERGENCY TRAFFIC
48A	SEX OFFENSE		        100	WANTED PERSON
49	RADIO REPAIR