Customs Over The Horizon Enforcement Network
From The RadioReference Wiki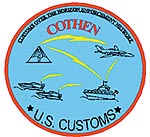 The Customs Over The Horizon Enforcement Network, or COTHEN, provides communications support for more than 235 aircraft, marine interdiction vessels, command offices, and numerous allied agencies including the USCG, DEA, Border Patrol, Army, Navy, and Joint Interagency Task Forces. COTHEN's Technical Service Center (TSC) provides real-time on-the-air support services and guarantees communications between users. COTHEN provides telephone patch (TRICS), a platform tracking and location system (TRACS), and over-the-air-rekeying capabilities (DARK).
COTHEN uses a Rockwell/Collins ALE (Automatic Link Establishment) protocol to connect users to each other over the HF spectrum. If you listen to frequencies in use on the COTHEN network, you will hear the ALE sounding calls which units periodically and automatically initiate to determine the best frequency to use for calls to other units.
COTHEN Network Frequencies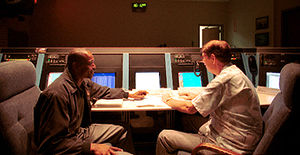 The COTHEN network now uses the MIL-STD 188-141A protocol. It formerly used the FED-STD-1045A ALE protocol, developed by Rockwell Collins. The FED-STD protocol is Rockwell Collins proprietary and goes by the tradename SELSCAN. SELSCAN is no longer actively used by the COTHEN network.
COTHEN Equipment
The following photos were of a recent Ebay auction of an older COTHEN Marine Mobile Unit. Interesting to note the Parkhill encryption control head and older Adaptive ALE controller (SELSCAN) that the COTHEN network abandoned in favor of the MIL-STD 188-141A ALE Network protocol. Note the COTHEN US Customs Stamp on the equipment.
Note: These photos were reposted with permission of the Ebay seller "Oliver Purddy"
---