Difference between revisions of "DeKalb County (GA)"
From The RadioReference Wiki
m

m

Line 57:
Line 57:
 

*[[Stone Mountain Park]]

 

*[[Stone Mountain Park]]

 
 
−

[[Category:Southern Region]]

+

[[Category:]]
---
Revision as of 12:18, 18 January 2013
For codes and signals, please see the DeKalb Codes and Signals article
Fire Station Locations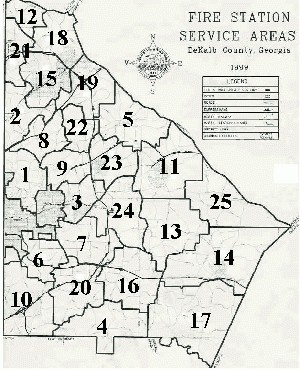 Station 1 1670 CLIFTON ROAD, ATLANTA
Station 2 1316 DRESDEN DRIVE, ATLANTA
Station 3 24 N. CLARENDON AVE., AVONDALE
Station 4 4540 FLAKES MILL ROAD, ELLENWOOD
Station 5 4013 LAWRENCEVILLE HWY. TUCKER
Station 6 2342 FLAT SHOALS ROAD, ATLANTA
Station 7 1776 DERRILL DRIVE, DECATUR
Station 8 2711 CLAIRMONT ROAD, ATLANTA
Station 9 3858 N. DRUID HILLS RD., DECATUR
Station 10 1686 CONSTITUTION RD., ATLANTA
Station 11 6715 JAMES B. RIVERS DR., STONE MTN.
Station 12 5323 ROBERTS DRIVE, DUNWOODY
Station 13 5619 REDAN ROAD, STONE MTN.
Station 14 7207 COVINGTON HWY., LITHONIA
Station 15 2017 FLIGHTWAY DRIVE, PEACHTREE-DEKALB AIRPORT, CHAMBLEE
Station 16 2750 PLEASANTWOOD DR., DECATUR
Station 17 3900 EVANS MILL ROAD, LITHONIA
Station 18 4588 BARCLAY DRIVE, CHAMBLEE
Station 19 3253 MERCER UNIV. DR., CHAMBLEE
Station 20 2919 WARREN ROAD, DECATUR
Station 21 1090 CROWN POINT PKWY., ATLANTA
Station 22 1859 MONTREAL ROAD, TUCKER
Station 23 1265 BROCKETT ROAD, CLARKSTON
Station 24 4154 REDAN ROAD, STONE MTN
Station 25 7136 ROCKBRIDGE RD., STONE MTN.
Police Shifts
Shift (Team) letters follow the three-digit numeric beat callsign, but are only used when other Teams overlap. (i.e. "231" covers beat 231, and uses callsign "231" when only one officer is in the beat, but "231A" and "231B" each add their "A" and "B" squad suffix when both are working on Wednesdays). Because all shifts work on Wednesday, this day is used for special projects, training, etc.
A 0600-1600 Day Watch Sun-Wed
B 0600-1600 Day Watch Wed-Sat
C 1200-2200 Evening Sun-Wed
D 1200-2200 Evening Wed-Sat
E 1600-0200 Peak Shift Sun-Wed
F 1600-0200 Peak Shift Wed-Sat
G 2200-0800 Morning Sun-Wed
H 2200-0800 Morning Wed-Sat
Teams may occasionaly swap their days off, but hours generally remain the same (i.e. A may swap days with B, or C may swap days with D).
Georgia Perimeter College Police and Security
Georgia Perimeter College Public Safety is located at the following campuses:
Clarkston - Police: 100-139 radio numbers, Security: radio numbers over 150
Dunwoody - Police: 200-239 radio numbers, Security: radio numbers over 250
Decatur - Police: 300-339 radio numbers, Security: radio numbers over 350
Newton County - Police: 400-439 numbers, Security: radio numbers over 450.
Alpharetta - Police: 600-639 radio numbers, Security: radio numbers over 650.
All units use the same college dispatch center, which is operational 24/7 in Clarkston.
Attractions