Fannin County (TX)
From The RadioReference Wiki
Fannin County, Texas
---
Lists
Fannin County Unit ID's
Fire Units
Bailey Fire: 1-25
Bonham Fire: 100-150
Dodd City: 900-925
Ector Fire: 2500-250x
Honey Grove Fire: 350-399
Ladonia Fire: 850-870
Leonard Fire: 2000-2026
Randolph Fire: 1-13
Ravanna Fire: 1-2x
Savoy Fire: 1-30
Telephone Fire: 1-2x
Trenton Fire: 7900's

Law Enforcement Unit IDs
100-199 County Sheriff
200-250 Bonham PD
260-Savoy PD Chief
261-Savoy PD Patrol
262-Savoy PD Patrol
263-Savoy PD Patrol
264-Savoy PD Patrol
300-Honey Grove PD Chief
301-Honey Grove PD Lieutenant
302-Honey Grove PD Sergeant
303-Honey Grove PD Patrol
304-Honey Grove PD Patrol
305-Honey Grove PD Patrol
400-480-FCSO Transport/Court Deputies
500-Trenton PD un-assigned
501-Trenton PD Captain
502-Trenton PD Patrol Officer
503-Trenton PD Patrol Officer
504-Trenton PD Patrol Reserve
505-Trenton PD Patrol Reserve
600-Leonard PD Chief
601-Leonard PD Patrol
602-Leonard PD Patrol
603-Leonard PD Patrol
604-Leonard PD Reserve
605-Leonard PD Reserve
800-Ector PD Chief
801-Ector PD Patrol
895-Texas Ranger Assignment
900-Emergency Manager
1756-TXDPS Assignment
1757-TXDPS Assignment
1758-TXDPS Assignment
1759-TXDPS Assignment
1-9-Justice of the Peace

Misc County
900=Emergency Management
W=Wreckers (W-1 thru W-9)

Bonham Police (all Bonham Police IDs are 2xx)
200 Chief
201 Assistant Chief
202 Captain
203 Watch Commander
204 CID Investigator
210 K-9/Patrol
211-222 Animal Control
ACO-1 Animal Control Supervisor
ACO-2 Animal Control Officer

Fannin County Sheriff's Office
Recently Fannin County Sheriff have implemented New Radio user I.D.'s.

100-Sheriff
101-Chief Deputy
102-Lieutenant
103-Sergeant
104-Sergeant
105-Sergeant
110-Special Services
111-Unassigned
112-Unassigned
113-Narcotics
114-Criminal CID
115-Criminal CID
116-119 Patrol Assignments
120-In the memory of Deputy Ramey Mitchel 120 remain assigned to him
121-190-District Patrol

Constables Office
20-Constable Savoy
22-Constable Leonard
23-Constable Unassigned
24-Constable Honey Grove Texas

Justice of the Peace
JP-1 thru JP-9 Justice of the Peace (The only people who can pronounce death on scene in Fannin County.)
Other Information Submitted For Fannin County
Fannin County Fire Paging System
154.4150/158.9850 RM WPYN387 Fannin Co. Fire (Minitor Pagers) This is a 2 site Voice paging system which includes All Fire Departments including Honey Grove. Site-1: Ivanhoe, Site-2: Bailey. Each fire agency has its own tone as shown below:
Fire Department Pager Tones
Bailey VFD
Code 593
1ST. Tone 903.2
2ND. Tone 651.9

Dodd City VFD
Code 574
1ST. Tone 810.2
2ND. Tone 688.3

Ector VFD
Code 570
1ST. Tone810.2
2ND. Tone553.9

Honey Grove VFD
Code 590
1ST. Tone 903.2
2ND. Tone 553.9

Ladonia VFD
Code 560
1ST. Tone 767.4
2ND. Tone 553.9

Leonard VFD
Code 594
1ST. Tone 903.2
2ND. Tone 688.3

Randolph VFD
Code 591
1ST. Tone 903.2
2ND. Tone 584.8

Ravenna VFD
Code 571
1ST. Tone 810.2
2ND. Tone 584.8

Savoy VFD
Code 580
1ST. Tone 855.5
2ND. Tone 553.9

Telephone VFD
Code 592
1ST. 903.2
2ND. 617.4

Trenton VFD
Code 572
1ST. 810.2
2ND. 903.2

All Call/Mutual Aid
Code 529
1ST. 617.4
2ND. 903.2

Amateur Radio Repeaters
Ivanhoe
145.2500 Negative Offset (144.6500) RM K5FRC 100.0 CTCSS TX Only. FM This is a new frequency for the Fannin Amateur Radio Club. The Site location is on the Ivanhoe Tower off of FM 273. This repeater with have an RF Link to 52.525 No Tone and is Will be soon Echo-Link enabled. This tower is Now fully operational.
Bonham
145.4700 Negative Offset (144.8700) RM K5FRC 100.0 CSQ FM This site is atop the VA Hospital in Bonham, Texas. This repeater is echo-Link enabled and RF Linked to 443.8500 N4RAP repeater in Paris Texas. It can also be cross banded to 443.7500 K5FRC 70cm Repeater in Bonham, Texas.
443.7500 Positive Offset (448.7500) RM K5FRC 103.5 CTCSS TX Only FM This Repeater located in Bonham Texas is IRLP and Echo-Link enables and it part of the RAILS system. It is RF linked with 443.8500 N4RAP Repeater in Paris Texas.
446.4600 Simplex RM K5FRC No Tone FM (VA Hospital) This is a simplex repeater used for SSTV (Slow Scan Television) No Voice traffic permitted.
Map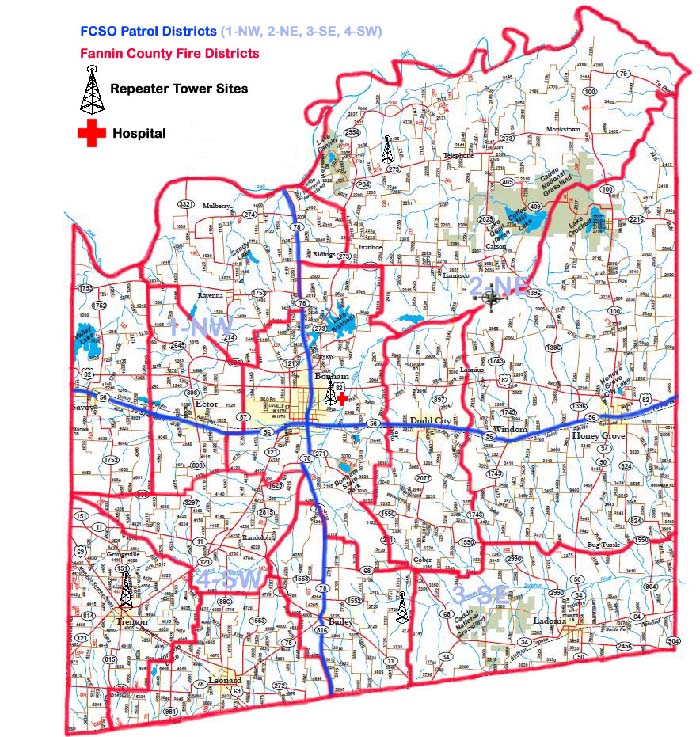 Bonham Radio Authority
Bonham PD Channel-2 is strictly used for Media sensitive radio traffic, Tactical op's and Surveillance. Both Bonham Police & Fire have all State Inter-op channels but rarely use them. The license WPPY390 are unused frequencies. All Public Safety frequencies are licensed to the Bonham Police Department which is the cities communications authority. Bonham PD use Kenwood TK-5310 portable radios and Kenwood TK-5710 mobile radios. Bonham PD have in-car computers with chat and instant messaging. Bonham Fire & EMS use iCOM F-11 portable and F-100 mobile radios.

Search:TexasFTO