Freescan General Options
From The RadioReference Wiki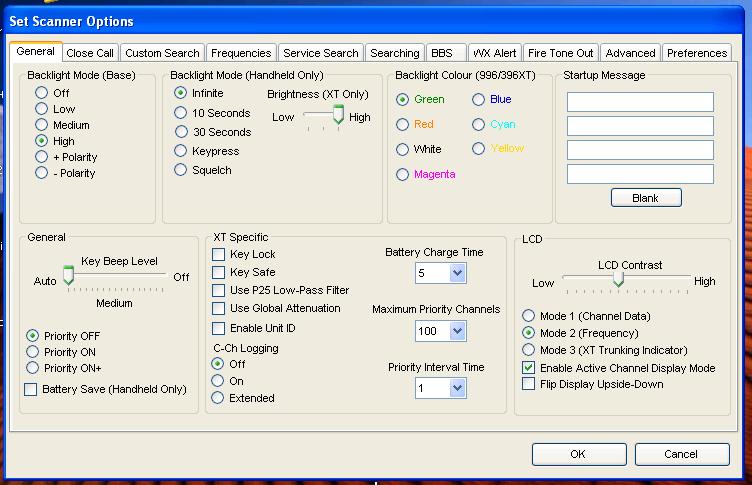 Welcome to the Freescan general options article.
General
See the priority section of the XT Easier to Read manuals for a discussion of these parameters:

Priority OFF
Priority ON
Priority ON +
Battery Save Set the scanner so it reduces the amount of power it needs if there are no transmissions (not on the XT handhelds?)
XT Specific
Key Lock - Deactivates the scanner's keys to help prevent accidentally changing the scanner's programming
Key Safe - see the Key-Safe Mode section of the Easier to Read manual for a discussion of this parameter
Use P25 Low-Pass Filter - See the P25 audio decode level adjustment article in the XT section for a discussion of this parameter
Use Global Attenuation
Enable Unit ID - Enables Unit ID logging. This option is for the XT scanners with the following firmware versions (or better);

BCD996XT - 1.04.00
BCD396XT - 1.08.14
BC346XT - 1.05.00
BCT15X - 1.03.00
C-Ch Logging
This option creates a data stream that can be utilized by utilities such as UniTrunker
NOTE: This option must be turned off, or FreeScan will not connect to the scanner
Off - No data is sent
On - Control channel data is output
Extended - Control channel data and a description is output
Battery Charge Time - The number of hours to set for charging the batteries
Maximum Priority Channels - sets the maximum priority channel numbers that are scanned during one priority scan interrupt. If there are more priority channels than the value you select, the channels are divided into more than one group and the scanner scans each group in turn. For example, if you set the maximum channels to 20 and there are 100 priority channels, the scanner checks those 100 channels in groups of 20 and takes a total of 5 intervals to complete the priority scan.
Priority Interval Time - sets how often the scanner will check the priority channels.
LCD
Mode 1 (Channel Data)

If Enable Unit ID is on, the scanner will alternate the current channel information and the Unit ID information in Line 2 of the display

Mode 2 (Frequency)

If Enable Unit ID is on, the scanner will alternate the current channel information and the Unit ID information in Line 2 of the display

Mode 3 (XT Trunking Indicator)

If Enable Unit ID is on, the Unit ID will show up on Line 3 of the display

Enable Active Channel Display Mode
Flip Display Upside Down
This data comes from the Easier to Read manuals and the Uniden TWiki
Proceed to the Close Call article
Return to the Setup Scanner Options article
Return to the FreeScan User Guide