Guilford County (NC)
From The RadioReference Wiki
Welcome to the Guilford County, North Carolina collaboration article. This is where you, the user, may index any articles you develop for scanning related topics for your area.
Guilford County Rebanding(Guilford System)
Guilford county has begun rebanding.The rebanding is expected to take about 2-3 years to complete.The new CC is unknown at this time since they are rebanding differently then other systems.It is possible that once the rebanding is completed, old and non-rebandable scanners will still be able to monitor the system.
Current Status: Currently in negotiations stage.
Greensboro/Guilford County Fire
Greensboro and Guilford County fire dispatch on the same TG on the Guilford System.
| Talkgroup | Description |
| --- | --- |
| 10224 | Guilford/Greensboro Fire Dispatch |
The below frequencies are simulcast from the Guilford System.
| Frequency | Description |
| --- | --- |
| 46.500 | Guilford/Greensboro Fire Dispatch-Simulcast from Guilford System |
| 453.750 | Guilford/Greensboro Fire Dispatch-Simulcast from Guilford System |
Guilford County Fire Stations
Greensboro Stations:
Sta 1 - 1514 North Church Street
Sta 2 - 5111 North Church Street
Sta 4 - 401 Gorrell Street
Sta 5 - 1401 Westover Terrace
Sta 7 - 1064 Gatewood Avenue
Sta 8 - 2201 Coliseum Boulevard
Sta 10 - 4208 High Point Road
Sta 11 - 2605 South Elm-Eugene Street
Sta 14 - 3633 Summit Avenue
Sta 17 - 6405 Old Oak Ridge Rd
Sta 18 - 5903 Ballinger Road
Sta 19 - 6900 Downwind Road
Sta 20 - 8404 West Market Street
Sta 21 - 2870 Horsepen Creek Rd
Sta 40 - 1805 Pisgah Church Road (Previously City Sta 12)
Sta 41 - 4504 Lake Brandt Road (Previously City Sta 6)
Sta 43 - 4854 Lake Jeanette Road (Previously City Sta 3)
Sta 48 - 1400 Vandalia Road (Previously City Sta 15)
Sta 49 - 4302 West Friendly Avenue (Previously City Sta 9)
Sta 52 - 1000 Meadowood Road (Previously City Sta 16)
Sta 53 - 2013 Willow Road
Sta 56 - 821 Franklin Blvd
Sta 57 - 1539 Mt Hope Church Road
City of High Point:
Sta 1 - 508 North Centennial Street
Sta 2 - 434 South Elm Street (Headquarters)
Sta 3 - 300 North Rotary
Sta 4 - 213 Fisher Avenue
Sta 5 - 3828 Johnson Street
Sta 6 - 110 East Springfield Avenue
Sta 7 - 1116 Gordon Street
Sta 8 - 208 Prospect Street
Sta 9 - 2707 Triangle Lake Drive
Sta 10 - 2419 Whites Mill Road
Sta 11 - 3604 Morris Farm Drive
Sta 12 - Barrow Rd btwn Clinard Farm Rd & Williard Dairy Rd
Sta 13 - Ambasador Ct btwn Eastchester & Guyer
Sta 26 - 2127 Sandy Ridge Rd
Guilford County Stations:
Sta 3 - Pleasant Garden - 4814 Pleasant Garden Rd
Sta 6 - Gibsonville - 218-220 Piedmont Ave
Sta 9 - Summerfield - 7400 Summerfield Rd
Sta 12 - Stokesdale - 8401 Hwy 158
Sta 13 - Fire District 13 - 2505 Lees Chapel Rd
Sta 15 - Oak Ridge - Linville Rd and Scoggins Rd
Sta 16 - Colfax - 9414 W Market St
Sta 22 - Pinecroft-Sedgefield - 5342 Vickery Chapel
Sta 23 - Pinecroft-Sedgefield - 5107 Mackey Rd
Sta 24 - Pinecroft-Sedgefield - 2239 Bishop Rd
Sta 25 - Pinecroft-Sedgefield - 6519 Coltrane Mill Rd
Sta 27 - Mcleansville - High Rock Rd
Sta 28 - Fire District 28 - 6619 NC 61 N
Sta 29 - Summerfield - 1800 Scalesville Rd at Lake Brandt Rd
Sta 30 - Southeast - 6012 Liberty Rd
Sta 31 - Whitsett - 809 NC 61
Sta 32 - Northeast Guilford - 7838 Jackson School Rd
Sta 33 - Northeast Guilford - 3937 NC 150
Sta 34 - Northeast Guilford - 6200 Osceola-Ossipee Rd
Sta 35 - Climax - 1210 E NC Hwy 62
Sta 37 - Mcleansville - Knox Rd
Sta 38 - Mount Hope - 6651 Holts Store
Sta 39 - Summerfield - 6214 Lake Brandt Rd, Summerville (Previously County Sta 11)
Sta 42 - Climax - 5316 Mack Lineberry Rd
Sta 44 - Alamance Community - 4831 Blakeshire Rd
Sta 45 - Kimesville Fire Rescue - 6610 Humble Rd
Sta 46 - Pinecroft-Sedgefield - Main St, Jamestown
Sta 47 - McLeansville - 5326 Freiden Church Rd (Previously County Sta 7)
Sta 50 - Guilford County Emergency Services
Sta 51 - Oak Ridge - Northwest School Rd
Sta 54 - Alamance Community - 4107 Presbyterian Rd (Previously County Sta 4)
Sta 55 - Fire District 13 - 4629 Hicone Rd (Previously County Sta 5)
Sta 58 - Fire District 13 - 6912 Spencer-Dixon Rd (Previously County Sta 8)
Sta 60 - Guilford County Dive Team
Sta 70 - Guilford County Haz-Mat Team
Sta 100 - Piedmont-Triad International Airport (Previously County Sta 10)
Randolph Sta 20 - Guil-Rand (See also Randolph County)
Randolph Sta 21 - Guil-Rand (See also Randolph County)
Randolph Sta 39 - Guil-Rand (See also Randolph County)
Randolph Sta 40 - Guil-Rand (See also Randolph County)
Randolph Sta 41 - Guil-Rand (See also Randolph County)
Greensboro Police Districts
Central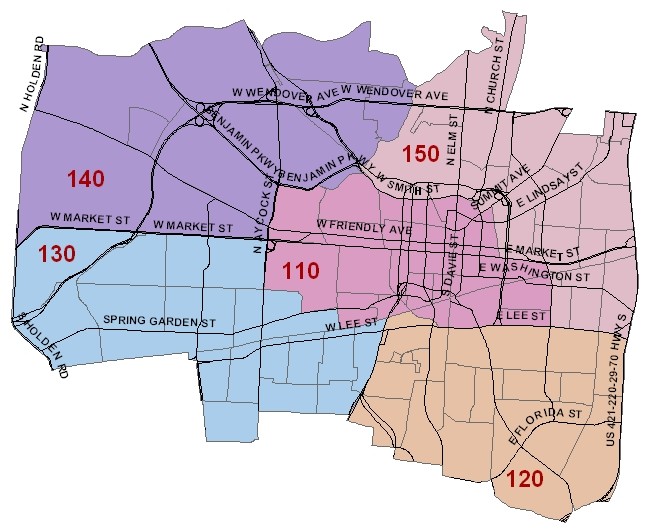 Eastern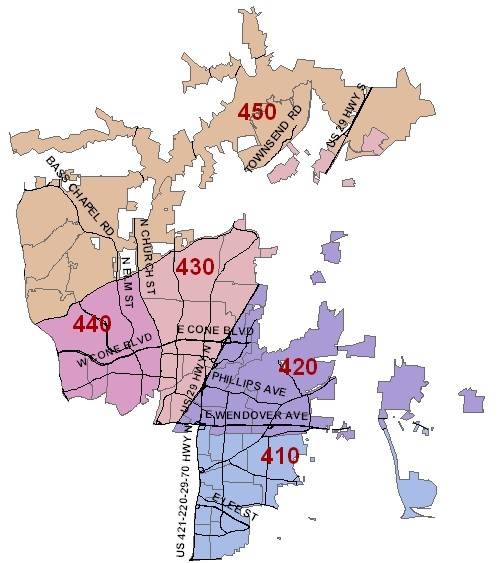 Southern
Western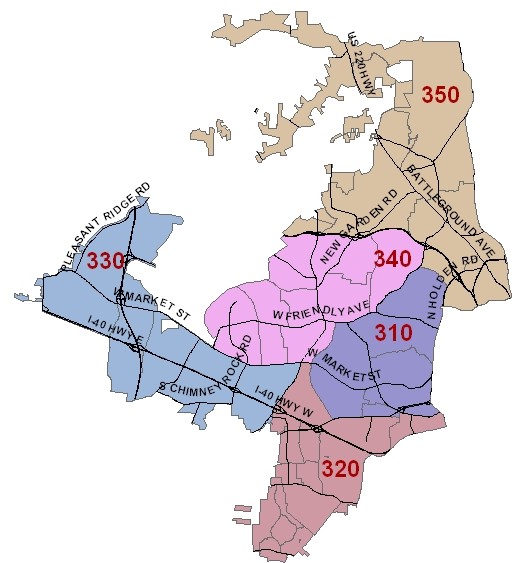 Guilford County Dispatch Codes
Drive Through Frequencies
| Description | Frequency | Tone |
| --- | --- | --- |
| Burger King Drive Through (Battleground Av) | 457.51200 | |
| Hardees Drive Through (Battleground Av) | 457.51250 | |
| Steak & Shake Drive Through (W Wendover Av) | 469.0125 | |
Guilford County Live Audio Feeds
Related Links