Hennepin County (MN)
From The RadioReference Wiki
Wiki Home → Collaboration Gateway → Minnesota → Minnesota Counties → Hennepin County

Welcome to the Hennepin County, Minnesota collaboration article. This is where you, the user, may index any articles you develop for scanning related topics for your area.
Related Wiki Pages
Fire Departments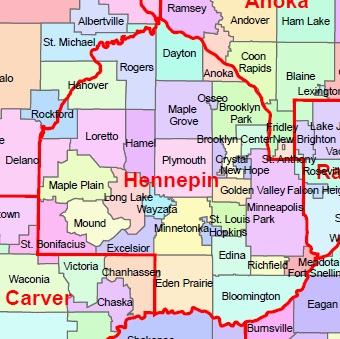 Anoka-Champlin Fire
Bloomington Fire
Bloomington Fire Station and District Map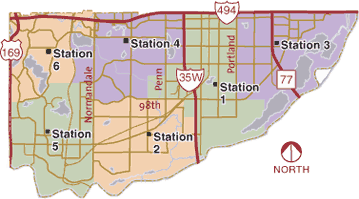 Brooklyn Center Fire
Brooklyn Park Fire
Dayton Fire
Eden Prairie Fire
Edina Fire
Excelsior Fire District
Golden Valley Fire
Hamel Fire
Hanover Fire
Hopkins Fire
Long Lake Fire
Loretto Fire
Maple Grove Fire
Maple Plain Fire
Medicine Lake Fire
Minneapolis Fire
Minnetonka Fire
Mound Fire
MSP Airport Fire
Osseo Fire
Plymouth Fire
Richfield Fire
Robbinsdale Fire Department
Rockford Fire
Rogers Fire
St. Anthony Village Fire
St. Bonifacious Fire
St. Louis Park Fire
Wayzata Fire
West Metro Fire District (Crystal and New Hope)
Fire Tones
Tones follow the "Motorola Quick Call 1 Two plus Two" Signalling format.
Department/Paging Group
Tone A
Tone B
Lone Tone
Bloomington
Pages on 154.0700
Station 1
742.5
592.5
Station 2
742.5
757.5
Station 3
742.5
802.5
Station 4
742.5
847.5
Station 5
742.5
892.5
Station 6
742.5
937.5
All Call
742.5
Chief
742.5
517.5
Brooklyn Center
East Station
West Station
426.6
346.7
Duty Crew
426.6
524.8
All Call
Brooklyn Park
Station 1
Station 2
Station 3
Station 4
645.7
346.7
Duty Crew
346.7
384.6
All Call
346.7
582.1
Dayton
Station 1
Station 2
All Call
384.6
426.6
Eden Prairie
Pages on 46.4800
Station 1
Station 2
Station 3
Station 4
All Call
538
330.5
Duty Officer
Edina
Pages on 154.4150
Group 1
1185.2
1217.8
Group 2
1185.2
1251.4
Group 3
1185.2
1285.8
Group 4
1185.2
1321.2
Chief Officer
1153.4
1153.4
Station 1
Station 2
All Call
1185.2
1153.4
Excelsior
Station 1
384.6
346.7
Station 2
384.6
464
All Call
346.7
794.3
Duty Officer
Golden Valley
Pages on 154.2500
Station 1
Station 2
Station 3
All Call
524.8
582.1
Duty Crew
524.8
473.2
Hamel
Station 1
384.6
524.8
Duty Officer
Hanover
Station 1
Duty Officer
Hopkins
Station 1
746.8
928.1
Duty Crew
426.6
473.2
Duty Officer
426.6
645.7
Long Lake
Station 1
Station 2
582.1
426.6
All Call
Duty Officer
Loretto
Station 1
Duty Officer
Maple Grove
Station 1
384.6
881.0
Station 2
426.6
881.0
Station 3
473.2
881.0
Station 4
524.8
881.0
Station 5
582.1
881.0
All Call
881.0
881.0
Duty Officer
645.7
881.0
Maple Plain
Station 1
794.3
346.7
Duty Officer
Minnetonka
Pages on 151.2800
Station 1
Station 2
524.8
767.4
Station 3
Station 4
Station 5
346.7
582.1
All Call
881.0
881.0
Duty Officer
Duty Crew
346.7
645.7
Mound
Station 1
384.6
716.1
Duty Officer
Osseo
Station 1
384.6
794.3
Duty Officer
Plymouth
Station 1
346.7
426.6
Station 2
716.7
716.7
Station 3
426.6
426.6
All Call
346.7
716.7
Duty Crew
473.2
716.7
Duty Officer
Richfield
Pages on
All Call
Robbinsdale
Station 1
1217.8
767.4
Duty Officer
Rockford
Station 1
Duty Officer
Rogers
Station 1
794.3
645.7
Duty Officer
St. Anthony Village
Station 1
Duty Crew
473.2
524.8
St. Bonifacious
Station 1
384.6
582.1
Duty Officer
St. Louis Park
Pages on 154.3100
Station 1
651.9
592
Station 2
651.9
755.2
All Call
651.9
668.3
Duty Crew
Wayzata
Station 1
346.7
881.0
Duty Officer
West Metro
Station 1
1217.8
669.9
Station 2
582.1
669.9
Station 3
1122.5
669.9
All Call
669.9
669.9
Duty Officer
617.4
617.4
Duty Crew
617.4
669.9
North Memorial Ambulance (ALS and BLS)
Hennepin County Medical Center EMS (ALS)
Ridgeview Medical Center Ambulance (ALS)
Allina Medical Transportation (ALS and BLS)
Edina Fire Department (ALS)
University of Minnesota Ambulance (BLS - Specialized)
CART Ambulance (BLS)
Related Links
Return to Minnesota