IC-R9000
From The RadioReference Wiki
On this page I have collected everything I could find on the net pertaining to the Icom IC-R9000. It is a fantastic receiver, and is always fun to operate. It is filled with features and is a great all around receiver. With its 5 inch amber CRT (or LCD) display it is still unmatched by any wide-band receiver.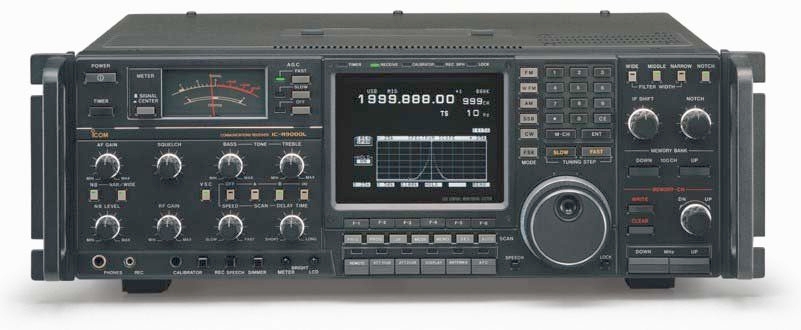 General Specifications
100kHz-1999.8MHz range
1000 channels - 10 banks
Scan rate 13 cps
AM, FM, WFM, LSB, USB, CW, FSK
10, 100Hz; 1, 5, 9, 10, 12.5, 20, 25, 100kHz steps
Spectrum scope
Direct digital synthesizer (DDS)
8-character alpha-tag
Analogue signal meter
Dual clock/5 timers
Bass/treble controls
AFC
AGC
Noise blanker (NB)
Attenuators
Autostore (100 channels)
10 Priority channels
10 search limits
Voice scan control (VSC)
Computer control
Tape recorder control
Modifications
Reviews and User Opinions
Related Pages
ACC connectior (8 pin DIN) pinout
Rig Control Interface
Radio Database International published a White Paper on this receiver which can be ordered here
Software Support
These packages are listed as having CI-V/Icom support which may include the R-9000:
Software Support Mailing Lists
CRT Replacement Info
(found in old Newsgroup post): There a place in CA that sells the factory replacements for 75.00 dollars for the 781 and 9000 I bought three as spares and there same as Icom. NEI in Pomona CA 909 591 5885 Part number 5KTULA sub for E2-765PDN amber 70.00 each salesperson David these our made by Tosbia and also have the Matsushita Tag. The same as the factory tube I replaced on my 781. Hope this helps Phil Ai4DQ
UPDATE - I have now ordered and received a replacement CRT from this source. - 8/05. There is also a seller online that also sells cheaper than Icom replacements.
Yahoo Groups and Message Boards
Ebay Listings

Back to Icom Radios