Illinois Department of Transportation (IDOT) (IL)
From The RadioReference Wiki
Return to IDOT database page
---
Road Condition Codes
Code 1: All Clear – Pavement is clear of ice and snow.
Code 2: Scattered – Scattered slick spots on pavements and bridge decks, or wet freezing pavements.
Code 3: 75% Bare – Pavement clear except for a narrow strip on the edge.
Code 4: 50% Bare – When a strip of ice or packed snow, some 4' wide, remains in the center of the pavement with a 2' to 3' strip along each edge.
Code 5: 25% Bare – When there is a narrow strip of bare pavement from 6" to 2' in each lane where the tires travel.
Code 6: Snow Covered – When the pavement on a route or portion of the District is covered with ice or packed snow.
---
Districts
District 1 - Schaumburg (Chicagoland Area)
Cook, DuPage, Kane, Lake, McHenry, and Will Counties
District 1 Radio call signs and their associated yards
CONTROL - Dispatchers at the District 1 HQ in Schaumburg
190 to 209 Landscape (L)
210 to 239 Gurnee (GU)
240 to 269 Grayslake and Lake Zurich satellite yard (G)
270 to 299 Woodstock (W)
300 to 329 Northbrook (NB)
330 to 359 Edens Expressway (E)
360 to 389 Kennedy Expressway (K)
390 to 419 Arlington Heights (AH)
420 to 449 Bridge inspectors
450 to 479 Eisenhower Expressway (IK)
480 to 499 Naperville (NA)
500 to 529 Oak Brook (OB)
530 to 559 St. Charles (SC)
560 to 589 Bridge (B)
590 to 619 Northside (NS)
620 to 649 Hillside (H)
650 to 679 Dan Ryan Expressway (D)
680 to 709 Stevenson Expressway (S)
710 to 739 Alsip (A)
740 to 769 I-57 (M)
770 to 799 Bishop Ford Expressway (BF)
800 to 829 Harvey (HY)
830 to 849 Joliet (J)
850 to 869 I-55 and Birds Bridge satellite yard (F)
870 to 899 New Lenox and Monee satellite yard (NL)
900 to 969 Emergency Traffic Patrols (ETP)
1420 to 1487 Sign shops (Northside, Elgin, Southside/Markham, New Lenox)
1500 to 1535 Rodenberg (R)
Miscellaneous info
Yards have additional call signs and RID's not listed above, typically for portables and additional equipment. Some of those can be found on the Starcom21 wiki. Trucks have their radio ID's mounted on top, with the yard code before the radio ID. For example GU226 is from Gurnee.

"Minimal coverage" = quarter group AKA four trucks per yard.
"Night coverage" = two plows + lead worker per yard.
"All clear" = roads are dry, and all trucks are to return to yards.
Several dispatch talkgroups are patched together during snow events. These are where icing complaints, accidents, and pavement codes are aired.
Mobile to mobile talkgroups are not patched and are for individual yards to talk amongst themselves.
---
District 2 - Dixon
Bureau, Carroll, Lee, Ogle, Rock Island, Henry and Whiteside Counties
Ohio (BUREAU) for Bases on 47.14, 47.34, 47.38 Base/Mobile WQQI740
Compton (LEE) for Bases on 47.14, 47.34, 47.38 Base/Mobile WQQI738
Yards
Amboy, Belvidere, Compton, Creston, Davis Junction, Dixon, Eleroy, Forreston, Galena, Galva, Geneso, Lyndon, Lynn Center, Milan, Milan Storage, Morrison, Mt. Carroll, Oregon, Osco Storage, Rock Falls, Rockford, Roscoe, Silvis, Stockton, Sycamore, Waterman storage, Forreston storage.
---
District 3 - Ottawa
Bureau, Dekalb, Ford, Grundy, Iroquois, Kankakee, Kendall, LaSalle, Livingston Counties
Yards
Kankakee, Watseka, Wenona, Ashkum, Pontiac, Pontiac Traffic, Gibson City, Bloomington, Ottawa, LaSalle, Princeton, Ladd, Morris, Yorkville, Buckley, Gardner, Towanda, Reading storage, Langley storage, Dwight storage.
---
District 4 - Peoria
Fulton, Henderson, Knox, McDonough, Marshall, Mercer, Peoria, Putnam, Stark, Tazewell, Warren, Woodford Counties
Wenona (Marshall) for Bases on 47.02, 47.1, 47.14, 47.38 Base/Mobile WQQI745
Monmouth (WARREN) for 47.06, 47.18, 47.3, 47.38 Base/Mobile WQQI741
Farmington (FULTON) for 47.06, 47.18, 47.3, 47.38 Base/Mobile WQQI461

Yards
Aledo, Biggsville, Brimfield, Monmouth, Edwards, Morton, Hopedale, Knoxville, Wyoming, Lewiston, Macomb, East Peoria, El Paso, Wenona, West Peoria, Sparland storage, Farmington storage.
---
District 5 - Paris
Champaign, DeWitt, Douglas, Edgar, McLean, Piatt, Vermilion Counties
Yards
Monticello, Clinton, Bloomington, Towanda, LeRoy, Paris, Tuscola, Danville, Champaign, Leverett, Farmer City storage, Mansfield storage.
---
District 6 - Springfield
Adams, Brown, Cass, Christian, Hancock, Logan, Macoupin, Mason, Menard, Montgomery, Morgan, Pike, Sangamon, Schuyler, Scott Counties
Yards
Barry, Carlinville, Carthage, Jacksonville, Lincoln, Litchfield, Mason City, Mt. Sterling, Petersburg, Pittsfield, Quincy, Riggston Satellite, Riverton, Rushville, Springfield West, Taylorville, Virginia, Divernon storage, Havana storage
Bodine Electric of Springfield does traffic light maintenance in the area.
---
District 7 - Effingham
Clark, Clay, Coles, Crawford, Cumberland, Edwards, Effingham, Fayette, Jasper, Lawrence, Macon, Moultrie, Richland, Shelby, Wabash, Wayne Counties
Yards
Sullivan, Decatur, Vandalia, Effingham, Shelbyville, Mattoon, Charleston satellite, Lawrenceville, Newton, Robinson, Flora, Olney satellite, Marshall, Greenup, Fairfield, Browns Satellite.
---
District 8 - Fairview Heights
Bond, Calhoun, Clinton, Greene, Jersey, Madison, Marion, Monroe, Randolph, St. Clair, Washington Counties
Base heard calling EPV-53 on 47.02 110.9 PL
Yards
Belleville, Tunnel storage, Hecker, Steeleville, Greenville, Carlyle, Nashville, Hamel, Salem, Wood River, Troy, Jerseyville, Carrollton, Bowman Shed, Columbia, Highland, Scott Dome, Mitchell Satellite, Godfrey storage, Pierron storage, Fairview Heights, Brussels Ferry, Kampsville Ferry.
---
District 9 - Carbondale
Alexander, Franklin, Gallatin, Hamilton, Hardin, Jackson, Jefferson, Johnson, Massac, Perry, Pope, Pulaski, Saline, Union, White, Williamson Counties
Yards
Anna, Belgrade Satellite, Pinckneyville, Murphysboro, West City, Marion, Harrisburg, Elizabethtown, Shawneetown Satellite, Vienna, Cairo Satellite, Dongola, Mt. Vernon, Enfield, Dixon Springs storage.
---
Communications / Frequencies
Maintain operable and interoperable capabilities along with primary, redundant and supportive communications
Maintain communication centers -- 4 24-hour communication centers and 9 district communication centers
Maintain a high band and UHF radio system in the Chicago area.
Maintain an emergency command center located in Carbondale equipped with National Interoperable frequencies and satellite communications.
Maintain Mobile Emergency Operations Centers (MEOC) located in Ottawa, Dixon, Peoria, Paris, Springfield and Effingham.
Statewide Portable Frequencies - Unidentified uses and tones
Statewide Temporary Fixed Bases on: 47.02, 47.06, 47.1, 47.14, 47.18, 47.28, 47.3, 47.36, 47.38 (20K) 150.995, 151.04, 151.07, 151.13, 156.045, 156.06, 156.12, 156.135, 159.18, 159.195 WPGA913
453.3625, 453.5125, 453.5375, 453.6875, 453.7125, 453.7625, 453.8875, 453.9125, 458.3625, 458.4625, 458.5125, 458.5375, 458.6875, 458.7125, 458.7625, 458.8875, 458.9125 Statewide Portables KJK803
Mobiles on 155.055, 155.925, 453.025, 453.3, 453.35, 453.6, 453.65, 453.8, 453.875, 453.9, 458.3, 458.35, 458.6, 458.65, 458.8, 458.875, 458.9 Statewide KR5616
STARCOM21 Usage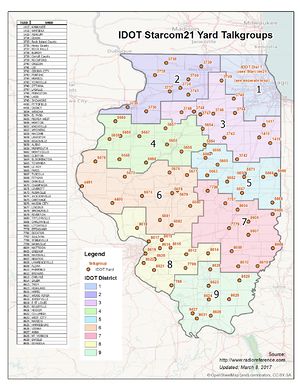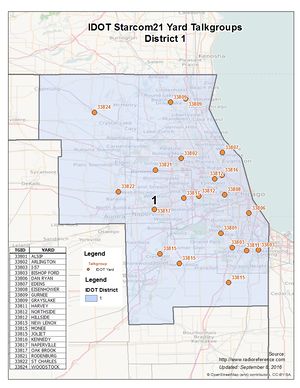 Identified Talkgroups Most districts in the state are using Starcom21 for their radio communications.

10/13 - McHenry Co. Primary, 453.4875, has been replaced by 453.6375 in a modification to callsign WQPX735. Please submit if this has been confirmed as in use. [8/13 - need update] F1 (150.995) and F8 (453.4) are simulcast. Other channels can be patched as needed.
There is a shorthand way of referring to the expressways so that NW @ Harlem is understood as outbound JFK @ Harlem. NW & SE = JFK E & W = IKE NE & SW = I 55 N & S = Dan Ryan & Eedens and I 57 & Ford
IDOT Emergency Patrol Vehicle's carry both UHF and SC21 radios. UHF frequencies are primary and SC21 is used as fallback. (as of 8/13) Conventional P25 Radio IDs (RIDs)
743, 744, 755, 772 on 453.1875 (6/23/15)
369004 - dispatcher on 453.1875 (6/23/15)
369007 - Communications Consoles Emergency Traffic Patrol (Dispatcher)
369008 - Communications Consoles Emergency Traffic Patrol (Dispatcher)
Radio Layout
IDOT D1 PORTABLE ZONE A LAYOUT
CH 1 McHenry PRI
CH 2 McHenry M2M
CH 3 McHenry SEC
CH 4 NORTH E. PRI
CH 5 NORTH E. M2M
CH 6 NORTH E. SEC
CH 7 KANE PRI
CH 8 KANE M2M
CH 9 KANE SEC
CH 10 CENTRAL PRI
CH 11 CENTRAL M2M
CH 12 CENTRAL SEC
CH 13 DOT D1 DET A
CH 14 DOT D1 DET B
CH 15 STATE WIDE
CH 16 DOT D1 WIDE
IDOT D1 PORTABLE ZONE B LAYOUT
CH 1 SOUTH PRI
CH 2 SOUTH M2M
CH 3 SOUTH SEC
CH 4 EXPYWAY PRI
CH 5 EXPYWAY M2M
CH 6 EXPYWAY SEC
CH 7 ETP PRI
CH 8 ETP M2M
CH 9 ETP SEC
CH 10 ADMIN PRI
CH 11 ADMIN M2M
CH 12 ADMIN SEC
CH 13 DOT D1 DET A
CH 14 DOT D1 DET B
CH 15 STATE WIDE
CH 16 DOT D1 WIDE
District 8
EPV Highway Codes
A -
B -
C -
D -
E -
F -
G -
H - I-55? (ESTL area?)
Contractors
Egizi Electric of Springfield is contracted to install/maintain most Traffic Signals in the District 6 & District 8 areas (known to work in Springfield, Carlinville, Litchfield, Glen Carbon)
Related Links