Leon County (FL)
From The RadioReference Wiki
Welcome to the Leon County, Florida collaboration article. This is where you, the user, may index any articles you develop for scanning related topics for your area.
Tallahassee / Leon County Listings
Tallahassee / Leon County P25 System Description /History from Tal.gov
Tallahassee / Leon County Fire Pager Tones
Tallahassee Fire Department provides service to all of Leon County. The city fire department is supplemented by six county volunteer agencies in the unincorporated areas. The city takes care of all dispatching, for both city stations and county VFDs. City dispatches on the P25 system, Talkgroup 81, which is crosspatched 24/7 to 154.19 (PL 162.2).
Beginning in Dec 2011, the city quit dispatching uses Motorola Quick Call 2 protocol except for the six county VFDs. Tone outs for the VFDs are as follows:
Tallahassee FD / Leon County VFD Tone Outs (PRIOR TO DECEMBER 1, 2011. After this date, the city stations 1-15 do NOT use these tones. However the five county VFDs are still using tones) (Using Motorola Quick Call 2 protocol)
Tallhassee Fire Department Stations
 	 	
TFD All Call	      378.6 (8 second duration)
(All Call is sent daily at ~0730 hrs)
		  	
TFD-1	              321.7	378.6	                
TFD-2	              339.6	378.6	                
TFD-3	              358.6	378.6	                
TFD-4	              399.8	378.6	               
TFD-5	              422.1	378.6	
TFD-6	              445.7	378.6	
TFD-7	              470.5	378.6	
TFD-8	              496.8	378.6	
TFD-9	              524.6	378.6	
TFD-10	              330.5	378.6	
TFD-11	              349.0	378.6	
TFD-12	              368.5	378.6	
TFD-13	              389.0	378.6	
TFD-14	              410.8	378.6	
TFD-15	              433.7	378.6	
FireMed 1	      410.8     349.0
Battalion Chief 2     368.5     349.0
Battalion Chief 3     389.0     349.0


Leon County Volunteer Fire Departments:
				
Lake Jackson Volunteers	  339.6	   569.1	
Miccosukee Volunteers	  358.6	   569.1	
Chaires Volunteers	  399.8	   569.1	
Woodville Volunteers	  422.1	   569.1	
Lake Talquin Volunteers	  445.7    569.1	
Bradfordville Volunteers  470.5	   569.1

Tallahassee Fire Department Station Location and Response Areas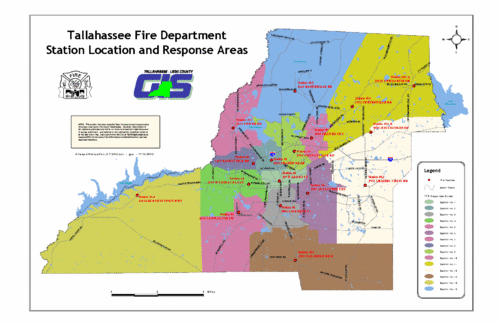 Leon County Fire Rescue
Sta. #1 - Tallahassee FD - 327 N. Adams St. @ E. Virginia St.,Tallahassee
Sta. #2 - Tallahassee FD - 2805 Sharer Rd. between N. Monroe St. (aka US-27/State Road 63) & Allen Way,Tallahassee
Sta. #3 - Tallahassee FD -

Current Sta. - 3005 S. Monroe St. (aka State Road 61) between Bass St. & Paul Russell Rd.,Tallahassee
Former Sta. - 2201 S. Monroe St. (aka State Road 61/State Road 373) @ E. Magnolia Dr. (aka State Road 265),Tallahassee

Sta. #4 - Tallahassee FD - 2899 W. Pensacola St. (aka State Road 366) @ Appleyard Dr.,Tallahassee (Bays face Appleyard Dr.)
Sta. #5 - Tallahassee FD - 3238 Capital Cir. S.W. (aka State Road 263),Tallahassee Regional Airport (Fire Sta. sits a little east of the south end of Runway 36)
Sta. #6 - Tallahassee FD - 2901 Apalachee Pkwy. (aka State Road 20/US-27) between Richview Rd. & Forest Tower Dr.,Tallahassee
Sta. #7 - Tallahassee FD - 2805 Shamrock S. between Killarney Way & Roscommon Dr.,Tallahassee
Sta. #8 - Tallahassee FD - 2423 Hartsfield Rd. between Foster Dr. & Garland Ct.,Tallahassee
Sta. #9 - Tallahassee FD - 3205-3209 Thomasville Rd. (aka State Road 61) between Oven Park Dr. & Brockton Way,Tallahassee
Sta. #10 - Lake Jackson VFD - 5323 Tower Rd. between Russells Pond Ln. & Capital Cir. N.W.,Tallahassee
Sta. #11 - Miccosukee VFD - 8752 Centerville Rd. (aka County Road 151) between Freshwater Farms Rd. & Deer Pond Ln.,Tallahassee
Sta. #11A - Miccosukee VFD - 15013 Cromartie Rd. (aka County Road 151) between Veterans Memorial Dr. (aka State Road 59) & Old Magnolia Rd.,Tallahassee
Sta. #11B - Miccosukee VFD - 9623 (Miccosukee) Land Co Op Rd. between Abbey Rd. & Tan Mouse Rd.,Tallahassee
Sta. #12 - Chaires/Capitola VFD - 4701 Chaires Cross Rd. (aka State Road 154) between Parkhill Rd. & Green Oak Dr.,Tallahassee
Sta. #13 - Woodville VFD - 1555 E. Oak Ridge Rd. (aka County Road 2204) between Art Ln. & Dicus Ln.,Tallahassee
Sta. #14 - Lake Talquin VFD - 16614 Blountstown Hwy. (aka State Road 20) between Oak Tree Ln. & Cricket Rd.,Tallahassee
Sta. #15 - Bradfordville VFD - 1445 Bannerman Rd. between Bull Headley Rd. & Preservation Rd.,Tallahassee
Sta. #30 - Chaires/Capitola VFD - 6370 Williams Rd. between Louvinia Dr. & Cody Trl.,Tallahassee
Leon County EMS - 1800 N. Blair Stone Rd. between Leone Dr. & Miccosukee Rd. (aka County Road 146),Tallahassee
Area Fire Department Links

Search:FloridaFTO