Madison County (OH)
From The RadioReference Wiki
Welcome to the Madison County, Ohio collaboration article. This is where you, the user, may index any articles you develop for scanning related topics for your area.
Fire/EMS
Pager tones
Dual tones use 1 second/3 second timing. Single tones use 8 second timing. All Dispatching is on 159.330MHz.
The Pleasant Valley VHF 154.445 MHz is now used for patching Non-MARCS IP users to MARCS IP talkgroups when responding Mutual Aid with Pleasant Valley.
Department
Tone
Frequency
Jefferson Twp Fire Station
2260.0/2465.0
159.330
Jefferson Twp Fire All-Call
2465.0
Pleasant Valley Joint Fire District
1180.0/765.0
Madison Co EMS District
643.0/1232.0
Central Twps Joint Fire District
368.5/483.5
Range Twp Fire Department
1530.0
Stokes Twp Fire Department
378.6/399.2
London Fire Department
2361.0
Sterling Joint EMS District
643.0/1820.0
Tri-County Joint Fire District
1232.0
Station numbers
251 - Jefferson Twp
261 - Pleasant Valley Joint Fire District
281 - Madison Co EMS District
291 - Central Twps Joint Fire District Lafayette Station
292 - Central Twps Joint Fire District Newport Station
340 - Range Twp
350 - Stokes Twp
360 - London
371 - Sterling Joint EMS
491 - Tri-County Joint Fire District
Fire district map
EMS district map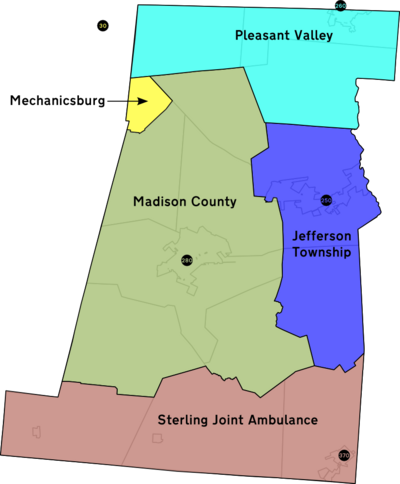 Police unit numbers
MADISON COUNTY SHERIFF'S OFFICE

1        Sheriff
2        Chief Deputy
3-5      Lieutenants
6-10     Sergeants
11-49    Deputies
50-59    Court Officers
70-79    Communications
100-199  Auxiliary
200-206  Lake Choctaw
300-350  Battelle Deputies
400-499  Auxiliary

LONDON POLICE

1        Chief
2-5      Sergeants
6-18     Full Time Officers
21-36    Part Time Officers
D1-D5    Communications

WEST JEFFERSON POLICE

1        Chief
2        Lieutenant
3-5      Sergeants
6-10     Full Time Officers
11-30    Auxiliary

MOUNT STERLING POLICE
Disbanded - Village now contracts Madison County Sheriff's Office for coverage

PLAIN CITY POLICE

401      Chief
402-403  Sergeants
405-421  Officers
Search:OhioFTO