Michigan MilAir Reference
From The RadioReference Wiki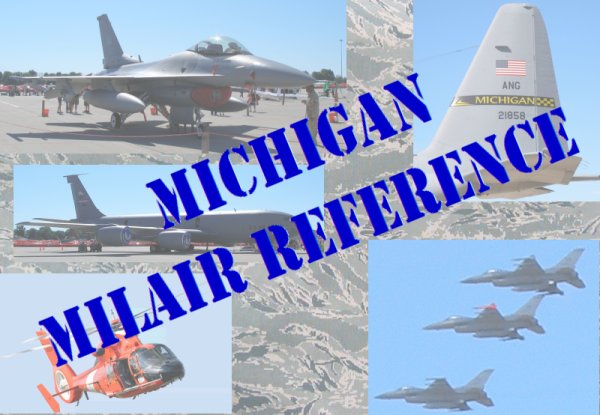 Military Air Bases in Michigan
Alpena Combat Readiness Training Center; Alpena, MI
Military Operations Areas (MOA)
Steelhead- Northern part of Michigan's thumb.
Minnow- Over Lk. Michigan between Sheboygan, WI and Ludington, MI.
Hersey (formerly Chippewa)- Between Big Rapids, Evart, and Mt. Pleasant.
Pike East & Pike West- Both north of Port Austin to Cheboygan.
Big Bear and Ontonagon- Located in the western portion of the U.P., near the Keweenaw penninsula.
Flying units stationed in Michigan
Army National Guard
Detachment 1, Company G, 185th Aviation
3/238th Ground Support Aviation Battalion
Air National Guard
Air Force Reserve
Coast Guard
USCG Air Station Traverse City
Units that were stationed in Michigan
107th Fighter Squadron MIANG
Units that fly frequently in Michigan
OH ANG 112th Fighter Squadron/180th Fighter Wing
Michigan MilAir Frequencies
Callsigns
OH ANG 112th Fighter Squadron/180th Fighter Wing
Frequencies
Alpena County Regional Airport Alpena CRTC
OH ANG 112th Fighter Squadron/180th Fighter Wing
References
Frequencies
Callsigns and Tail Codes
Other Helpful Sites
The Michigan Airport Directory
The helpful users of the RR.com forums