Motorola XTS Series
From The RadioReference Wiki
XTS 5000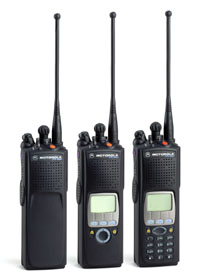 The XTS 5000 family of ASTRO digital portable two-way radios deliver sophisticated features -- signaling schemes, encryption, analog/digital compatibility, conventional and trunking capability. Check your flashcode on the decoder to see what options are installed.

Large PTT button
Angled On/Off volume knob
Orange emergency button
Illuminated 16-position, top-mounted rotary knob
2-position concentric switch
3-position toggle switch
Programmable monitor button
2 programmable side buttons
Transmit/Receive LED indicator
Up to 850 channels (on Model II and Model III radios - only 48 on Model I)
Dial from pre-stored lists
Programmable softkeys for easy access to radio functions
Backit keypad
- 2 x 3 navigational keys (on Models II and III)
Large display
- 4 lines and 12 characters
- Status icons including battery (with IMPRES(TM) batteries) and power indicator
- Signal strength display on Trunked Systems only
4 x 3 DTMF (on Model III only)
850 Channels are available with latest firmware release --Mikegilbert 22:52, 16 Jan 2006 (CST)
1,000 Channels are available with version 12 firmware.
XTS 2500
870 Channels are available with version 12 firmware.
XTS 3000
The first of the XTS series portables -- the first Jedi style portable that was digital capable.
XTS 3500
Look for XTS-3500s by the 'truckload' to appear at hamfests.
Motorola has dropped this model and doesn't sell it any more - way early in it's planned 'lifecycle' of 12 years (it first shipped in the spring of '99).
Mot says they'll continue to support users who own this product. There's problems with it that shouldn't affect an amateur user's casual use for voice. The XTS3500 has selectable channel spacing and an XTS3500 with an IMBE flashcode can be configured to run ASTRO IMBE or analog. Batteries are the same as XTS-3000, antennae and speaker-mic. RSS is DOS based only, and is not the same that is used for the XTS3000 series of portables. While they may look alike, they are not the same beasts.
Some ham repeaters are digital capable, and any radio flashed for APCO-25 should be able to TX in analog also.
XTS Equipment on Ebay