Difference between revisions of "North Carolina VIPER (Type II)"
From The RadioReference Wiki
---
Revision as of 10:06, 4 July 2017

Welcome to the VIPER Statewide collaboration article, a Trunked Radio System located in North Carolina.
This is where you, the user, may index any articles you develop for scanning related topics for this Trunked Radio System.
Related Wiki Articles
External Websites
Presentation Files (PDF)
General Information
VIPER stands for "Voice Interoperability Plan for Emergency Responders".
VIPER is divided into 3 "Zones" (or RFSS):
Zone 1 is the piedmont area (including central NC)
Zone 2 is the western part of the state
Zone 3 is the eastern part of the state.
Here is a map created by RR member Daniel (FD5722) showing the location of the 3 Zones/RFSS: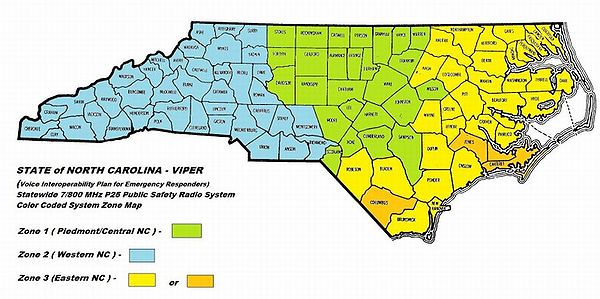 The NC Department of Public Safety has a website devoted to VIPER at the following link:
https://www.ncdps.gov/Index2.cfm?a=000001,001148
A great blog devoted to VIPER can be found at the following link: