Pro-106
From The RadioReference Wiki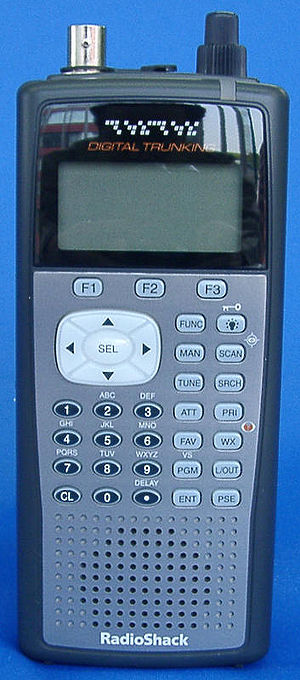 The Pro-106 is manufactured for Radio Shack by GRE America Inc.
The Radio Shack is a Digital Trunk Tracking scanner which boasts the ability to track APCO 25 digital trunking systems, in addition to following Motorola type I/II systems, LTR and EDACS trunking systems. It is very similar to the GRE PSR-500.
The Pro-106 is functionally identical to the PSR-500 and uses the same software and cables. Firmware updates are NOT compatible between this radio and the GRE PSR-500 though.
Note: Testing has shown that the frequency range 796.9975 to 805.9975 MHz is blocked on this scanner.
Included Accessories
Antenna
Printed Owner's Manual
Black non-rechargeable battery holder
Yellow rechargable battery holder
Belt clip
Recommended accessories (Not included with the radio)
RS #273-355 9VDC/ 800mA AC Adapter
RS #273-369 9-Volt Vehicle DC-to-DC Adapter
RS #273-336 Adaptaplug C - Needed for the above adapters
RS #20-283 Radio Shack 800MHz handheld antenna
Replacement Belt clip - Radio Shack RSU part number 12418273. Cost is $3.49 each plus shipping. See your local Radio Shack store to order.
Please see the Connecting scanners via USB article for USB cables to connect your PC to the scanner
Discriminator Tap
There is also a built in data dump which can be enabled with "CCDump" in the Func-Global "super expert" menu which may meet many users needs when used with 3rd party software which already supports this data. When CCDump = "Yes" most control channel and weather SAME data is dumped to the PC/IF port for use with the USB cable. This may save soldering and warranty issues for most users.
Related Pages
Radio Shack Pro-106 Support Links
RadioReference Links
Compare the Pro-106 to other digital models
CPU and DSP Upgrades
Yahoo Groups and Mailing Lists (receiver support)
eBay Listings

Return to the Radio_Shack_Scanners page