Pro-163
From The RadioReference Wiki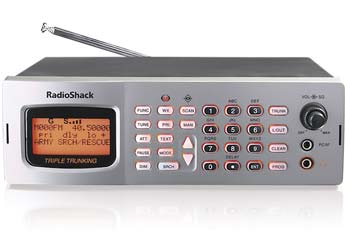 The Pro-163 is manufactured by GRE in China. The Pro-163 is very similar to the GRECOM PSR-300 and Radio Shack Pro-164 and *may* use the same radio control software and can use scanner cables. Note: This radio can not be computer controlled.
General Specifications
Frequency Coverage
Frequency (MHz)        Step Size Value
---------------------------------------------
25-27.405              10 kHz
27.41-29.7             5 kHZ
29.71-49.83            10 kHz
49.835-54              5 kHz
108-136.9916           8.33 kHz
137-137.995            5 kHz
138-143.9875           12.5 kHz
144-147.995            5 kHz
148-150.7875           12.5 kHz
150.8-150.845          5 kHz
150.8525-150.845       5 kHz
150.8525-154.4975      7.5 kHz
154.515-154.64         5 kHz
154.65-156.255         7.5 kHz
156.275-157.45         25 kHz
154.47-161.5725        7.5 kHz
161.6-161.975          5 kHz
162-174                12.5
216.0025-219.9975      5 kHz
220-224.995            5 kHz
225.000-379.975        25 kHz
380-419.9875           12.5 kHz
420-450                5 kHz
450.00625-469.99375    6.25 kHz
470-512                12.5 kHz
764-766.996875         3.125 kHz
773-775.996875         3.125 kHz
803-805.996875         3.125 kHz
806-823.9875           12.5 kHz
849-868.9875           12.5 kHz
894-901.9875           12.5 kHz
902-928                5 kHz
928.0125-939.9875     12.5 kHz
940-960                6.25 kHz
1240-1300              6.25 kHz

---
Rebanding supported? YES
1000 channels and 1500 talkgroups in 10 banks
155 Preprogrammed frequencies
Scan rate 60 cps, search rate 75 cps
Signal stalker II (with 10 autostore channels)
16-character alpha-tagging with text entry can show ID code or service name
L/O ID in "open" mode
ID delay
Motorola Control Channel Only trunking
Easy-to-read back lit control and display with back lit keypad
6 search ranges/ 1 user definable search range
Search "seek" feature
Tunes virtually all important bands—local marine, fire/police, Ham, CB, VHF-air, racing, weather, Railroad, and more
7 search ranges/ 1 user definable search range
* The scanner contains these preprogrammed search ranges, stored in the search bank (SR0-SR7)
* Bank Band
* SR0 Marine
* SR1 CB
* SR2 FRS/GMRS/MURS
* SR3 Public Safety
* SR4 Aircraft (Civil and Mil-Air segments can be selected)
* SR5 Amateur Bands
* SR6 Railroad
* SR7 Limit search (User changeable)

Weather band with SAME Weather Alert and weather priority—access weather channels and alerts with the push of a button
1 Priority channel
Zeromatic search tuning
Per channel or global attenuator
USB connection using the GRE 30-3290 (RS #20-047) USB Scanner Data Manager Cable via the PC/IF port.
Function key to access special modes and programming options
A cloning cable may be fabricated using 2 - 1/8 inch stereo jacks and shielded cable
Verifying the firmware version
You can verify the version of firmware currently active in the Pro-164 by pressing the 3 key during the "Welcome" screen.
Future firmware upgrades can be installed by downloading and running an upgrade program via the Radio Shack support page.
RR System Compatibility
This scanner is compatible with the following Trunking System Types and System Voices used in the RadioReference Database, of course you must verify that the scanner will cover the appropriate frequency range:
System Types:

Motorola Type I
Motorola Type II
Motorola Type IIi Hybrid
Motorola Type II Smartnet
Motorola Type II Smartzone
Motorola Type II Smartzone Omnilink
EDACS Standard (Wide)
EDACS Standard Networked
LTR Standard
Included Accessories
Mobile bracket and DIN-E sleeve
Owners Manual, and Preprogrammed Frequency addendum
AC adapter
DC wire harness
Stock pull-up antenna
Owner's Manuals
Operating Tips
Battery Voltage - PGM, F+ENT, Manual to exit.
Spectrum Sweeper - Press and hold The scan/spectrum sweeper key. To select public service sweep press
F+Scan/spectrum sweeper key. Press the number to activate/de-activate band.
Edit Welcome Message - PGM, F+Text, Enter text for 1st line, "ENT", 2nd line, "ENT", 3rd line, "ENT", 4th line,
"ENT" <to exit>.
Edit Bank Tag - PGM, Func+<bank number>, TEXT, enter text, ENT to save and exit.
Backlight Settings - Turn radio on, press the light button during the "welcome" message, press up/down to change
time in seconds.
Infinite Backlight - Press and hold the light button until beep in scan, manual, sweep, or search.
To turn Global attenuation on and off - F+ATT.
Load Pre-programmed frequencies - Tun radio on, press PGM, 1 ENT, or any other key to exit. <Note: Will overwrite
first three banks>.
Keytone on/off - Press 1 to turn keytone on, or 2 to tun it off, during the welocome message.
Review Lockouts - Press MAN, F+L/OUT. Repeate to see next L/O.
Set WX FIPS Codes - Press WX, F+PGM, enter FIPS, press ENT. F+CL to delete FIPS.
Program Motorola fleet maps - PGM Trunk, F+arrow up/down to select bank, F+8, enter code pressing ENT after each
size code for all 8 blocks.
Talkgroup Delay - Pess MAN, F+up/down arrow to select bank, F+TRUNK, F+./Delay, up/down arrow to select time in
seconds, ENT to save.
Re-initialize radio <and all memory> - Press 0, 1, ENT, during welcome message.
Supporting Software
USB Cable and Drivers
Application Software
Yahoo Groups and Message Boards
FCC Type Acceptance
eBay Listings

Return to the Radio Shack Scanners page