Difference between revisions of "Pro-2050"
From The RadioReference Wiki
(One intermediate revision by the same user not shown)

(No difference)
---
Revision as of 10:20, 12 April 2007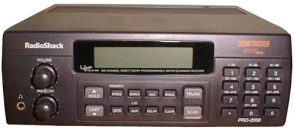 Manufactured for Radio Shack by Uniden.
Very similar to the BC235XLT and Pro-90 in a base model. There was a Pro-2050"A" released in 2000 with the additional feature of a Motorola disconnect tone.
General Specifications
Rebanding supported NO
300 channels in 10 banks of 30 each
29-54, 108-174, 406-512, 806-956MHz range
5, 12.5, 25kHz steps
Scan rate 50cps
AM, FM
Trunking scanner for 800 Mot I, II & IIi (1 trunking bank at a time)
5 lists, 10 IDs, 50 per bank; 500 IDs total
ID delay
10 priority channels
No alpha tags
Analog audio only
Data skip
No PC interface
Reviews and User Opinions
Related Pages
Yahoo Groups and Mailing Lists
eBay Listings

Return to Radio Shack Scanners