Difference between revisions of "Pro-2050"
From The RadioReference Wiki
(One intermediate revision by the same user not shown)

(No difference)
---
Revision as of 20:48, 17 August 2007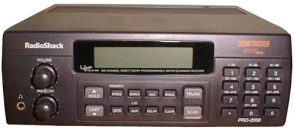 Manufactured for Radio Shack by Uniden.
Very similar to the BC235XLT and Pro-90 in a base model. There was a Pro-2050"A" released in 2000 with the additional feature of a Motorola disconnect tone.
General Specifications
Features
Rebanding supported NO
300 channels in 10 banks of 30 each
29-54, 108-174, 406-512, 806-956MHz range
5, 12.5, 25kHz steps
Scan rate 50cps
AM, FM
Trunking scanner for 800 Mot I, II