Pro-2055
From The RadioReference Wiki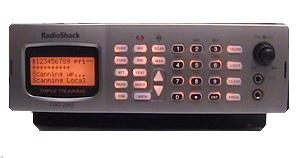 The Pro-2055 was manufactured for Radio Shack by GRE America Inc
The same scanner as the Pro-97 but as a base/mobile. Trunk tracker three technology. Can use Win97 to program with your computer. Note that due to firmware limitations, computer control is not possible.
This unit can be used as a desktop scanner or mounted in a vehicle.* Alphanumeric display shows ID code or can be programmed with service name. Backlit display and keypad for low-light use. Clones with the popular PRO-97 handheld scanner (#20-527).
Also see the Pro-97 page. All utilities and links listed there also apply to the PRO-2055.
General Specifications
Features
Rebanding supported? NOT KNOWN It appears that the scanner must be returned to Radio Shack for a logic and display board retrofit 'if' it is to be supported.

See this article on the Strong Signals website for more information, or 800Reband - WPAScanner Radio Shack Scanner Rebanding Chart that has contradictory information as reported by Monitoring Times, Radio Rumors. The fist link information pertains to the Pro-97; however it is assumed that the support will be applied in a similar manner. More information is required.
A cloning cable may be fabricated using 2 1/8 inch mono jacks and shielded cable
1000-channel memory divided into ten banks lets you store up to 1000 frequencies
5 ID lists, 30 IDs per list, 150 IDs per bank
Lock out IDs in 'open' mode
150+ most popular national frequencies preprogrammed
Covers most popular 800MHz triple-trunking police/fire/emergency systems in most metropolitan areas
UHF, 800, 900, Motorola, LTR, EDACS (GE/Ericsson) capability
Use as a desktop scanner or mount in, under or on dash of vehicle* with included DIN-E hardware
Signal stalker II—searches for nearby frequency transmissions within approximately 1000 feet of the radio. Scanner will automatically jump to nearby transmission and display frequency
Skywarn button—hear storm reports from spotters near your location minutes before they are broadcast on TV or radio. (requires one-time programming of one frequency into memory)
16 character alphanumeric display can display ID code or service name
Backlit display and keypad
Clones to another 2055 or the popular PRO-97 handheld scanner—download information on the handheld to the desktop scanner, no need to program separately
CTCSS/DCS (Continuous Tone Coded Squelch System/Digital Coded Squelch) receive and detect
Specifications
Frequencies: 25-54, 108-136.99166, 137-174, 216.0025-225, 225-406, 406-512, 800-960 (except cellular), 1240-1300MHz
FM/AM/PL/DPL mode, user selectable
60-channel scan per second, 75-step search per second
5, 6.26, 7.5, 8.333, 12.5, 25KHz step (preset by band - not user selectable)
Air, police-fire, Ham, Marine, WX, FRS/GMRS/MURS and CB service search
WX and SAME alert with FIPS operation—get alerts for only your county (will not alert in SAME mode unless you have entered the FIPS code for your county)
20dB attenuator (global or by-channel)
Lock out, lock out review, delay and reset
EPPROM memory backup—will not lose programming if power is lost
Dimensions (LWH): 7.2x5.3x2.2" (18.29x13.46x5.59cm)
Includes AC and DC adapters for desktop or vehicle* use
Takes ADAPTAPLUG type "T" for power supply - now discontinued at Radio Shack.
RR System Compatibility
This scanner is compatible with the following Trunking System Types and System Voices used in the RadioReference Database, of course you must verify that the scanner will cover the appropriate frequency range:
System Types:

Motorola Type I
Motorola Type II
Motorola Type IIi Hybrid
Motorola Type II Smartnet
Motorola Type II Smartzone
Motorola Type II Smartzone Omnilink
EDACS Standard (Wide)
EDACS Standard Networked
EDACS SCAT
LTR Standard
Programming and Keyboard Tricks
Restoring The 155 Preset Frequencies
Turn the scanner OFF and then turn ON again.
When the Multi-system Trunking Scanner appears, press PGM.
Press 1
More than 1 Trunk System in a bank
You may program more than 1 trunk system in a bank provided you seperate them with 1 conventional channel
Manually Changing the Welcome Message
To change the startup message on the PRO-2055 scanner:
1. Turn on the scanner.
2. Change to any standard FM channel.
3. Press [PGM] to enter program mode.
4. Press [FUNC] + [TEXT]. The display will read:
   Start Message

   Edit 1st line:


5. Enter the text you wish and press [ENT] to move to the second line, then the third, and so on.
Thanks to Matthew on rec.radio.scanner for the procedure
Reviews and User Opinions
Related Pages
Software
Yahoo Groups and Mailing Lists (software and receiver support)
eBay Listings
Return to Radio Shack Scanners