Pro-84
From The RadioReference Wiki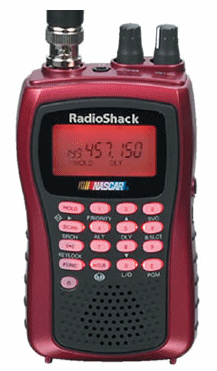 200-channel scanner.
Production Notes
Pro-84 manufactured by Uniden.
Pro-84 has the "Nascar logo" and a red case
Pro-84 has been programmed with frequencies used by Nascar events
General Specifications
Rebanding supported? N/A
200 channels with 10 banks of 20 channels
Frequency Coverage: 25-54, 108-136.9875, 137-174, 406-512, 806-823.9375, 851-868.9875, and 896.1125-956 MHz (excluding cellular)
5, 6.25, 12.5kHz steps
Scan rate 40cps
Signal stalker I allows you to "Stalk" and "Scan" simultaneously
1 programmable Skywarn channel (#200)
Weather alert
10 search banks
Service search makes it easy to explore preset frequencies for police, fire, weather, aircraft, marine and amateur radio
1 priority channel for each bank
Backlit display and keypad
PC interface
2 AA alkaline/Ni-Cad/Ni-MH batteries
Other:
Earphone jack
Antenna connection: BNC
Antenna: Flexible detachable
Dimensions: Length 2.7 x Height 4.5 x Width 1.3"
Modifications
Reviews and User Opinions
Related Pages
Programming Cables and Supporting Software
Programming Cables
Supporting Software
ARC83 Closed-source, commericial software for the Pro-83 & PRO-84. Demo available.
Load83 is a freeware program available from the PRO-83 Yahoo Group
Yahoo Groups and Mailing Lists (software and receiver support)
eBay Listings

Return to Radio Shack Scanners