Difference between revisions of "SC180"
From The RadioReference Wiki
m

m (moved eBay widget to separate page)

Line 20:
Line 20:
 

* Keypad Lock

 

* Keypad Lock

 
 
−

==eBay Listings==

+

====

−

<ebay>Uniden ("SC180","SC-180")</ebay>

+

SC180

 
 
 
 
---
Revision as of 04:33, 23 March 2016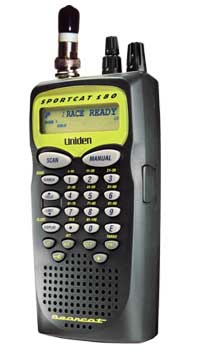 Fully Programmable Handheld Sport Scanner with 100 Channels and 12 Bands with Aircraft and 800 MHz
Features include band search, data skip, a "limit hold" after Turbo Scan and a Search VFO knob used to scroll through channels and frequencies. The SC180B also offers you Twin Turbo scan and search, a 3.5 mm headphone jack, one-touch weather, a rechargeable Ni-Cd battery. Also featured is an illuminated LCD, lockout, a programmable delay, volume and squelch control.
PRODUCT FEATURE LIST
100 Channels
12 Bands/10 Banks
Full-Frequency LCD Display
Twin Turbo™ Scan & Search
Alpha Text Display
Preprogrammed Band Search
Full Frequency LCD
Auto Weather Scan
Channel Lockout
Built-in Scan Delay
Memory Backup
10 Priority Channels
Channel Scan
Keypad Lock
SC180 Scanners for Sales

Return to Uniden Scanners