Toronto County (ON)
From The RadioReference Wiki
Toronto Public Safety
Toronto Police Service Divisional Map with Patrol Areas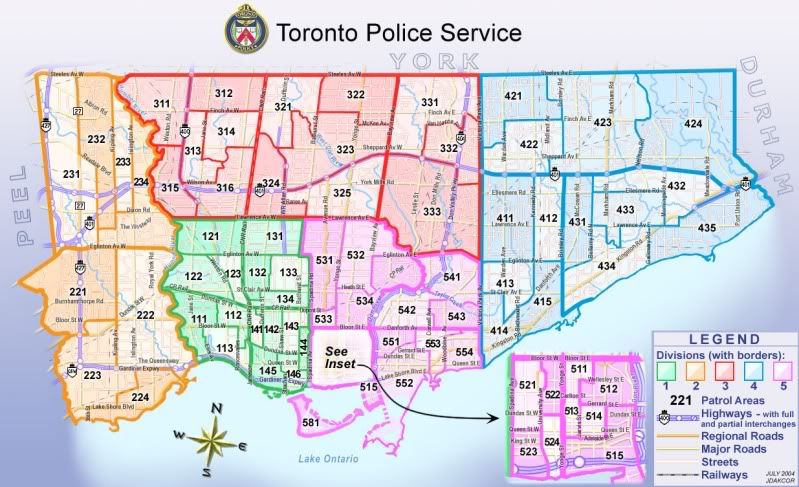 Google Maps for TPS Stations
Google Maps Toronto Police Divisions
Toronto Emergency Medical Services (EMS)
Overview of Toronto EMS
Toronto EMS is the sole provider of emergency medical response for the City of Toronto: a service district encompassing 650 square kilometres with a daytime population of 3.5 million people.
This makes Toronto EMS the largest municipal paramedic ambulance service in Canada, and one of the most comprehensive pre-hospital emergency care systems in the world.
Toronto EMS Paramedics are college-trained professionals who are highly skilled in all aspects of pre-hospital emergency medicine. They treat a wide variety of injuries and medical conditions, while providing supportive patient care and safe transportation to an appropriate medical facility. An advanced computer-aided dispatch system linked to a 9-1-1 system means the time from receiving a call to the arrival of a paramedic crew is only a matter of minutes. In many instances, the initial emergency care rendered by a paramedic is the deciding factor between life and death, temporary or permanent disability, a brief confinement or prolonged hospitalization for a patient. In critical situations, paramedics are required to demonstrate leadership, well-developed human relations skills, rapid decision-making, and a high degree of empathy for both the patients and their families.
Paramedics are the most visible EMS staff on the streets of Toronto, however, the successful operation of the Toronto EMS system requires teamwork from every aspect of the service. There are four main Emergency Medical Services (EMS) divisions, each administered by four Deputy Chief/Directors and supervised by one Chief/General Manager.
Communications
The Toronto EMS Communications Centre processes about 425,700 calls per year and responds to approximately 265,000 requests for service resulting in transport of about 179,600 patients per year.
The Toronto EMS communications systems makes use of the Toronto Public Safety System, which is also used by The Toronto Police Service and The Toronto Fire Service.
Additional information on the Toronto EMS Communications and Dispatch may be found on the Toronto EMS Website in the Communication Section, or on the Toronto Public Safety wiki page
Google Maps Station Locations
Monitoring Toronto Emergency Services
talkgroups and frequency information at this link:
Toronto Fire Service
Fire Operations

Command and Division Map
Google Map of Stations
Google Map of Toronto Fire Service Stations
Active Incidences Link
http://www.toronto.ca/fire/cadinfo/livecad.htm
(updated at five minute intervals)
Traffic Cameras/ Toronto Area
http://www.cbc.ca/toronto/traffic/FrameSet.htm
Toronto Expressway and Major Road Closures
http://www.toronto.ca/transportation/road_info/
Toronto Businesses and Attractions
New P25 Trunk System