UBC3500XLT
From The RadioReference Wiki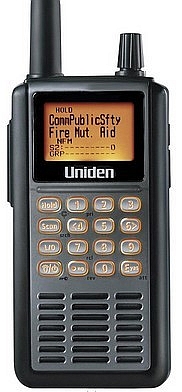 The Uniden Bearcat UBC3500XLT is a Europe marketed scanner from Uniden similar to the BR330T USA version. It can scan conventional analog frequencies only, and features 2500 memory channels organized with Uniden's Dynamic Memory Architecture.
Although trunk tracking is not supported by the scanner itself, the radio is steerable by PC and Trunkview has been shown to work with the UBC3500XLT. This allows it to track MPT1327 trunked systems.
Specifications
Physical
Accessories: antenna, charger, rechargeable batteries
AM/WFM/FM/NFM
Antenna Connector: SMA
Battery level display
Keys
Group Quick Key range: 0-9
System Quick Key range: 1-99
Technical
Channels: 1600 typical, 2500 maximum
Custom Search Ranges: 10
Groups per system: 20 maximum
LCD and Keypad Backlight
PC Programming and Control
Scan Speed 100 channels per second
3 selectable but not definable bandplans
1 Service Search; Air with 8.33 or 12.5 steps
Signal Strength display
5, 6.25, 8.33, 10, 12.5, 15, 20, 25, 50, 100kHz steps
Strong signal attenuation
Systems: 200 maximum
16 character text tagging for each system, group, channel, talkgroup, and search range
Frequency Coverage
25 - 512 MHz
806 - 960 MHz
1240 - 1300 MHz
Power
Power requirements: 3 AA batteries, 6V DC, or (50Hz)800mA AC adapter
Features
Adjustable (0-5 sec) scan/search delay
Adjustable Hold (scan duration 0-255 sec) per system, custom or service search
Broadcast Screen - ignore hits on 10 custom frequency ranges during Close Call or search operation.
DCS/CTCSS Rapid Decode / Automatic CTCSS identification
Fire Tone Out Alert
Frequency AutoStore - automatically store frequencies from a service or limit search into a conventional system
Independent Alert Tone Volume – lets you set the volume level of the following tones: Key Beep, Emergency Alert, Channel Alert, and Close Call Alert.
Quick Recall – quickly navigates to a specific Channel by choosing the System, Group, and Channel.
Related pages
Software
Steps and Frequency Resolution
The UBC3500XLT claims in its specifications to be able to deal with 6.25kHz steps although its frequency only gives four decimal places. To my knowledge, it is incapable of tuning exactly to 6.25kHz offset channels as for instance used with PMR446 radios although in practice, this does not affect the listening quality.
UBC3500XLT Scanners for Sale

Return to Uniden Scanners