Difference between revisions of "UniTrunker"
From The RadioReference Wiki
Line 38:
Line 38:
 

</td>

 

</td>

 

<td>

 

<td>

−

Public Alpha - released July 28, 2008 (Version 1.0.0.1)

+

Public Alpha - released 2008 (Version 1.0.0.)

 

</td>

 

</td>

 

</tr>

 

</tr>
---
Revision as of 23:23, 11 January 2009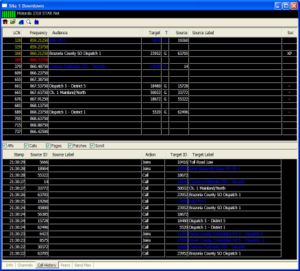 Overview
UniTrunker supports control channel monitoring for the following trunking types:
UniTrunker also supports downloading system information from the RadioReference.com Web Service.
UniTrunker generally does not currently support Passport or MultiNet. LTR support is limited to operation with a PSR-500 or PSR-600.
UniTrunker cannot monitor or decode conventional P25 data or audio.
What Can UniTrunker Display?
Basic system information - system type, system id, talkgroups, and radio ids.
Basic site information - site or cell number, and list of channels.
Site call activity - who's talking, on what channel, and to whom.
Neighboring Site information - list adjacent cell or sites with control channels.
User roaming - what radios are registed to a particular site.
User affiliation - what talkgroup a user has requested.
Patches - a dispatcher initiated action that joins two or more talkgroups together.
This program replaces a previous generation of UniTrunker (Retro).
Downloads
| | |
| --- | --- |
| | Public Alpha - released October 2008 (Version 1.0.0.5) |
What are the Call Types available?
Colum "T" = "Type" which would be [G]roup or [I]individual (iCall)
Colum "CT" = "Call Type" - See below
For EDACS systems:
Fon - Telephone call
Tst - LCN tester
Dat - Data call
Ana - Analog Voice Call
Emg - Emergency Analog Voice Call
Dig - Digital (ProVoice or Aegis) Voice Call
EmD - Emergency Digital Voice Call

For Motorola:
(Note that these follow the TG+n values in order.)

(none) - Analog voice call
All - All talkgroup (analog)
Em - Emergency (analog)
XP - Crosspatch (analog)
EXP - Emergency Cross Patch (analog)
EMS - Emergency Multiselect (analog)
? - Reserved
MS - Multi Select (analog)
Dig - Digital voice call
DAT - Digital All Talkgroup
DEm - Digital Emergency
DXP - Digital Crosspatch
DEX - Digital Emergency Crosspatch
DEM - Digital Emergency Multiselect
? - Reserved
DMS - Digital Multi-select

For P25 systems:
P25 call type is the call's priority - a single digit from 1 to 7. "4" is the default normal priority.
Emergency calls prefix this digit with the letter "E".
Frequently Asked Questions
Q: Do I need a radio with discriminator tap?
A: The short answer - Yes. The long answer - You may be able to decode 3600 baud Motorola control channels with a 50-70% decode rate without a discriminator tap. This is totally dependent upon the scanner/receiver and sound card you are using. You will not be able to decode EDACS, or APCO Project 25 without a discriminator tap. MPT1327 is the exception. It generally decodes equally well with speaker audio or discriminator audio. With the GRE PSR-500 and PSR-600 you do not need a discriminator tap; the program reads through a USB cable attached to the radios' PC/IF port. UniTrunker has support for EDACS, Motorola and P25 systems with the PSR500/600.
Q: Do I need a slicer?
A: No.
Q: Will this work on Windows? If so, what version?
A: Yes - Windows 95 (with IE4 or later), Windows 98, ME, 2K, and XP (all flavors).
Q: What types of trunked radio systems can I monitor?
A: APCO Project 25, EDACS, LTR (with supported radio), Motorola, and MPT1327.
Q: How can I use this to listen to calls on a trunked radio system?
A: You need a second radio that accepts computer control to tune to voice calls as they occur.
Q: Does the program permit downloading talkgroup information from the RadioReference.com Web Service?
A: Yes - you can download Motorola and APCO P25 systems by trunking system ID. You can download EDACS by looking up the RR DB SID (that's the ID # assigned by the database to each trunked system). You must be a paid member with a valid user id for this feature.
Q: Can I import my trunker data files?
A: Yes - read the Hints section of the documentation that describes how to do this.
Q: How much does it cost?
A: Nothing. As long as you follow the license and copyright notice - the program is free. No registration either.
See also