UniTrunker
From The RadioReference Wiki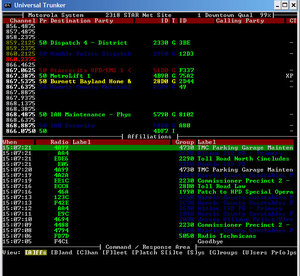 Overview
UniTrunker supports control channel monitoring for the following trunking types:
UniTrunker also supports downloading system information from the RadioReference.com Web Service.
UniTrunker does not currently support LTR Passport or MultiNet.
UniTrunker cannot monitor or decode conventional P25 data or audio. However, a program called kNACk is included with the Unitrunker distribution. kNACk can be used to capture NAC codes on a P25 conventional system.
What Can UniTrunker Display?
Basic system information - system type, system id, talkgroups, and radio ids.
Basic site information - site or cell number, and list of channels.
Site call activity - who's talking, on what channel, and to whom.
Neighboring Site information - list adjacent cell or sites with control channels.
User roaming - what radios are registed to a particular site.
User affiliation - what talkgroup a user has requested.
Patches - a dispatcher initiated action that joins two or more talkgroups together.
Downloads
| | |
| --- | --- |
| | Public Beta #16 - released November 15, 2007 (Version 0.1.0.54) |
Frequently Asked Questions
Q: Do I need a radio with discriminator tap?
A: The short answer - Yes. The long answer - You may be able to decode 3600 baud Motorola control channels with a 50-70% decode rate without a discriminator tap. This is totally dependent upon the scanner/receiver and sound card you are using. You will not be able to decode EDACS, or APCO Project 25 without a discriminator tap. MPT1327 is the exception. It generally decodes equally well with speaker audio or discriminator audio.
Q: Do I need a slicer?
A: No.
Q: Do I need a computer that runs DOS?
A: No. This program does not run on DOS.
Q: Will this work on Windows? If so, what version?
A: Yes - Windows 95 (with IE4 or later), Windows 98, ME, 2K, and XP (all flavors).
Q: What types of trunked radio systems can I monitor?
A: Motorola, EDACS, APCO Project 25, and MPT1327.
Q: How can I use this to listen to calls on a trunked radio system?
A: Yes. You need a second radio that accepts computer control to tune to voice calls as they occur.
Q: Does the program permit downloading talkgroup information from the RadioReference.com Web Service?
A: Yes - you can download Motorola and APCO P25 systems by trunking system ID. You can download EDACS by looking up the RR DB SID (that's the ID # assigned by the database to each trunked system). You must be a paid member with a valid user id for this feature.
Q: Can I import my trunker data files?
A: Yes - read the Hints section of the documentation that describes how to do this.
Q: How do I install this MSI file?
A: For Windows XP, double-click on the file. For earlier Windows, you may need to install something from Microsoft.
Q: How much does it cost?
A: Nothing. As long as you follow the license and copyright notice - the program is free. No registration either.
See also