Ramsey County (MN)
Wiki Home → Collaboration Gateway → Minnesota → Minnesota Counties → Ramsey County

Welcome to the Ramsey County, Minnesota collaboration article. This is where you, the user, may index any articles you develop for scanning related topics for your area.
Law Enforcement Agencies
Ramsey County Sheriffs Office
St. Paul Police Department
Mounds View Police Department
Roseville Police Department
White Bear Lake Police Department
New Brighton Police Department
Minnesota State Fair Police Department
North St. Paul Police Department
Maplewood Police Department
St. Anthony Police Department
Fire Departments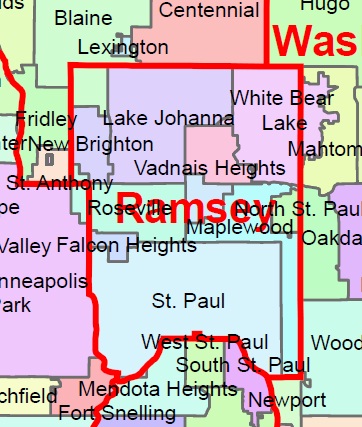 St. Paul Fire
Falcon Heights Fire
Roseville Fire
Little Canada Fire
White Bear Lake Fire
Lake Johanna Fire
Maplewood Fire
New Brighton Fire
North St. Paul Fire
Vadnais Heights Fire
SBM Fire (Spring Lake Park, Blaine and Mounds View)
Fire Tones
Department/Paging Group
Tone A
Tone B
Falcon Heights
Station 1
Little Canada
Station 1
Lake Johanna
Station 1
Station 2
Station 3
Station 4
Maplewood
Station 1
Station 2
Station 3
Station 4
Station 7
New Brighton
Station 1
359.9
361.4
North St. Paul
Station 5 Fire
339.6
378.6
Station 5 EMS
378.6
378.6
Roseville
Station 1
1403
1037
Station 2
1403
1131
Station 3
1403
1232
All Call
1403
799
Duty Crew
1406
869.5
Vadnais Heights
North Station
South Station
White Bear Lake
Paging on 155.8800
Ambulance Pages
584.8
617.4
Fire Officer
651.9
Solid
Fire/Rescue/All Call
617.4
Solid
Emergency Medical Services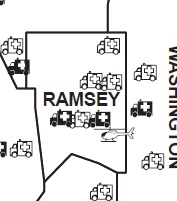 Allina Health EMS (ALS)
St. Paul Fire Department (ALS)
HealthEast Medical Transportation (ALS)
White Bear Lake Fire Department (ALS)
ARMER Migration
Trunked Radio Systems
Miscellaneous Groups
Minnesota State Fair
During MSF Time - Monitor both the R-Pools and the State Fair Police talkgroups as one of each of the pairs will carry the audio and the other will not depending on how this soft patch is accomplished.
| Talkgroup | TGID | |
| --- | --- | --- |
| R-POOL 8 | 11542 | Patch w/ State Fair Police 1 (12576) |
| R-POOL 9 | 11544 | Patch w/ State Fair Police 2 (12578) |
| R-POOL 10 | 11546 | Patch w/ State Fair Police 3 (12580) |
St. Paul Schools
TG 12376 (St. Paul School Bus Garage Channel)
| Unit ID | User |
| --- | --- |
| 533 | School Bus Dispatch |
| | Other Radio ID's are buses |
TG 12378 (St. Paul School Bus Safety Channel)
| Unit ID | User |
| --- | --- |
| 1780 | Dispatch |
| 3xx | Safety Supervisors |
| 4xx | Off Duty St. Paul Police Officers |