Toronto County (ON)
Welcome to the Toronto collaboration article. This is where you, the user, may index any articles you develop for scanning related topics for your area.
Toronto Public Safety
Toronto Police Service Divisional Map with Patrol Areas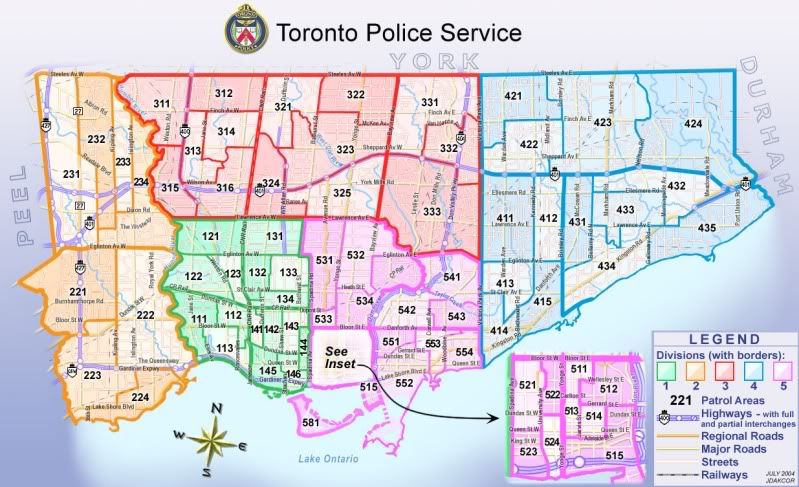 Google Maps for TPS Stations
Google Maps Toronto Police Divisions
Toronto Emergency Medical Services (EMS)
Communications
The Toronto EMS communications systems makes use of the Toronto Public Safety System, which is also used by The Toronto Police Service and The Toronto Fire Service.
Additional information on the Toronto EMS Communications and Dispatch may be found on the Toronto EMS Website in the Communication Section, or on the Toronto Public Safety wiki page
Google Maps Station Locations
Toronto Fire Service
Fire Operations

North,East,South,West Quadrant Channel line up
1 - Operations (talkgroup)
2 - Tactical 1 (talkgroup)
3 - Talkaround 1 (conventional)
4 - Tactical 2 (talkgroup)
5 - Talkaround 2 (conventional)
6 - Tactical 3 (talkgroup)
7 - Talkaround 3 (conventional)
8 - Tactical 4 (talkgroup)
9 - Talkaround 4 (conventional)
10-Tactical 5 (talkgroup)
11-Talkaround 5 (conventional)
12-Tactical 6 (talkgroup)
13-Talkaround 6 (conventional)
14-Strategic 1 (talkgroup)
15-Strategic 2 (talkgroup)
16-Prevention (talkgroup)
Google Map of Stations
Google Map of Toronto Fire Service Stations
Active Incidents Link
(updated at five minute intervals)
Traffic
Toronto Expressway and Major Road Closures
P25 Trunk System tested May to July 2010
Related Wiki Articles and Web Sites