Homebrewed Off-Center Fed Dipole
From The RadioReference Wiki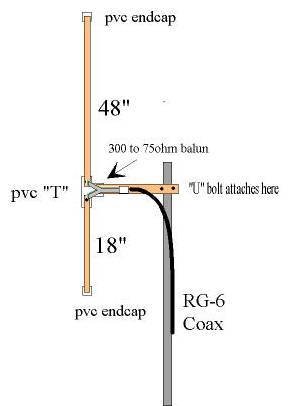 Building A Homebrewed Off-Center Fed Dipole Scanner Antenna.
Aluminum/copper tubing construction:
You will need to "press fit" the tubing/"T" connector at the store for proper fit.The tubing/connector is held in place with 2 S/S sheet metal screws for connecting the balun to each element.
Find a "U" bolt to fit your mast.Drill two holes in the support pipe to fit the U bolt.The support pipe is 18" from the "T" to the mast.
Remember,bandwidth increases as diameter of the elements increases. I think,if I remember correctly,at the hardware store,that a few CPVC fittings will fit copper tubing perfectly!
Some say that the 18" element on top mounted works best,Some like the 48" element on top.It does'nt matter,it works the same.
If you use the copper tubing,be sure to paint it with some good,non-conductive paint.I used to paint mine light grey. -Have fun! (Teraycoda)