KY State Police (KY)
From The RadioReference Wiki
A Summary of the Kentucky State Police APCO-25 Conventional System
The Kentucky State Police system utilizes Multicast transmissions, whereby each post has several transmitter sites that transmit simultaneously on several different frequencies. This system is APCO-25 Compliant, but is CONVENTIONAL - it is NOT trunked.
Two "Channels" are referenced during communications: Channel B is the Primarily Dispatch channel - designated as: KSP 08B-2... Channel A is the Alternate (or non-TAC talkaround) Channel - designated as: KSP 08A-2.
In addition, several of the more commonly used responses to dispatch calls are automated whereas the trooper simply presses a button on his radio console to communicate "10-7", "10-8", etc. - on these communications, the dispatcher simply replies "10-4" unit xxxx and the trooper is not heard over the radio.
Use of repeater inputs (i.e. 5 MHZ higher than output) for talkaround/tactical frequencies is common.
Conventional APCO P-25 Talkgroup ID's and Radio ID's (RID) Information:
The GRE PSR-800, Uniden BC396XT, Uniden BC996XT, and Uniden Home Patrol HP-1 have the ability to decode conventional APCO P-25 Talkgroup ID's and Radio ID's. Note that these ARE NOT the same as trunked talkgroup ID's and Radio ID's.
Conventional Talkgroup ID = 1 is the P25 conventional talkgroup used on DISPATCH (Channel B) frequencies.
Radio ID's for dispatch consoles are in the format of X00001, X00002, and so on, where X is the KSP Post number... For example, Radio ID's for the radio consoles at Post 2 are:
200001 Console 1 for Post 2
200002 Console 2 for Post 2
200003 Console 3 for Post 2

Individual trooper Radio ID's have no noted correlation to corresponding car or badge numbers (ie unit 301 for Post 16 is not 1600301 and so forth).
Monitoring The System
A scanner that will receive APCO P-25 digital mode is required to monitor. Currently there are several scanners available with this capability:
Radio Shack PRO-18, PRO-96, PRO-106, PRO-197, PRO-2096
GRE PSR-500, PSR-600, PSR-800
Uniden 250D, 296D, 396T/996T, 396XT/996XT, 785D, 796D, Home Patrol HP-1

If you use a PRO96/2096 or 396T/996T you will need to enter the freqs in "FM" mode.
Scanners with NAC decode capability can be programmed with the listed Network Access Code (NAC) for each frequency. This will reduce interference from other frequencies.
Commercial Vehicle Enforcement Division (CVE)
Kentucky Motor Vehicle Enforcement Officers are now the Kentucky State Police Division of Commercial Vehicle Enforcement; they will operate on the KSP Post freqs for their regions. They are 4XXX units, some KSP Posts will see a great increase in radio traffic due to this change. A number of factors led to the merger but officer safety is the big winner here as CVE now operates on the much newer and more reliable KSP System. There won't be as much traffic on 453.30000, it is temporarily a stop-gap to run their more specialized vehicle checks as KSP Dispatchers take on the added responsibility of learning how to do those specialized checks and use new software programs to facilitate those checks.
Kentucky State Police Codes
10-Codes
10-1 Receiving Poorly
10-2 Receiving Well
10-3 Radio Silence Unless Emergency(s)
10-4 O.K.
10-5 Relay
10-6 Busy
10-7 Out of service (or Deceased)
10-8 In service
10-9 Repeat Your Traffic
10-10 Out of service-subject to call
10-11 Talking too Fast
10-12 Person(s) Present with Unit
10-12A (10-12 Alert)-Emergency/ Confidential INFO/ASAP
10-13 Wx Conditions
10-14 Convoy or Escort
10-15 Prisoner, Prisoner in Custody
10-16 Pick up prisoners at:
10-20 Location
10-21 Call by telephone
10-25 (Do You Have) Contact With
10-29 Check for Wanted/Stolen
10-29C Criminal History
10-29E Epic Inquiry
10-29L Check for Local Warrants/Paperwork
10-30 Radio TRF Does Not Conform to Policy
10-31 Domestic Violence/Crime at_____
10-33 School Violence/Crime at ____
10-34 School Visit
10-35 Confidential
10-36 Correct time
10-37 Dispatcher
10-44 Traffic Stop
10-45 Non-injury Accident
10-46 Injury Accident
10-47 Vehicle Registration (w/o VIN)
10-49 Payroll Checks
10-50 Expense Checks
10-51 Wrecker
10-52 Ambulance/EMS
10-53 Request Back-up
10-54 Request Coroner
10-60 Suspicious Person
10-61 Motorist Assist
10-62 Loud Party
10-64 Status Check "Are You O.K.?"
10-65 I Am O.K.(Reply to 10-64, 10-4 or any other response means Trooper is Not O.K.)
10-74 Suicidal Person
10-75 Bomb Threat
10-80 Corpse
10-85 Wanted Person
10-86 Wanted Person-Felony
10-88 Telephone number
10-90 Alarm
10-92 Officer Hostage Situation
10-95 What is Your ETA?
10-96 En Route
10-97 Arrived at Scene
10-98 Finished last assignment
Signals
1 Officer's Home/Officer is at Home
2 Meet at______
3 Traffic or Messages
4 Post
5 Eating
6 Call Telephone Number
7 Emergency - Officer Down Situation
8 Disregard
9 Rush - Emergency Action Desired
10 Drugs
11 Communicable Disease Hazard/Universal Precautions Apply
Other Codes
0100 - Speeding
0115 - Reckless Driving
0148 - DUI--Drugs
0149 - Drunk driving
202A - Involuntary Hospitalization
600 - Mental Patient/"Acting Mental"
2301 - Public Intoxication
2304 - Under the Influence of Drugs Abbreviations
UTL - Unable to Locate
ATL - Attempt to locate
MVA - Motor Vehicle Accident
MVC - Motor Vehicle Collision
GSW - Gun Shot Wound
Kentucky State Police Posts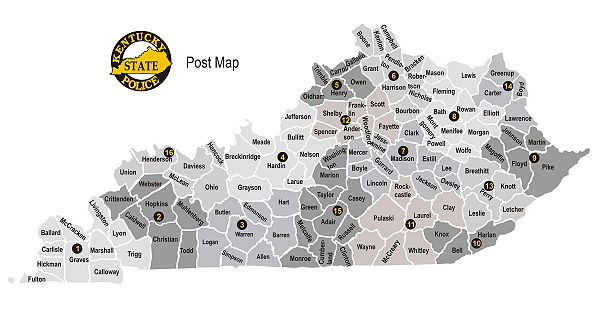 Commercial Vehicle Enforcement Areas
Return to DB page: KY State Police
Return to Wiki page: Kentucky (US)