Difference between revisions of "Nicollet County (MN)"
From The RadioReference Wiki
m

m (removed Category:Midwest Region; added Sub-Category: Minnesota)

Line 81:
Line 81:
 

|}

 

|}

 
 
−

[[Category:Midwest Region]]

+

[[Category:]]
---
Revision as of 20:59, 20 January 2013
Law Enforcement Agencies
Nicollet County Sheriff's Department
Saint Peter Police Department
North Mankato Police Department
The Nicollet County Sheriff's Department is the 911 PSAP. They dispatch for most of the agencies within the county. The Saint Peter Police Department runs a dispatch center for their Police Officers and will also dispatch for the Saint Peter Fire Department on occasion.
---
Law Enforcement Radio Call Sign's
| Unit ID | User |
| --- | --- |
| 23xx | Sheriff's Deputies |
| 19xx | Saint Peter Police Officers |
| 7xx | North Mankato Police Officers |
Fire Departments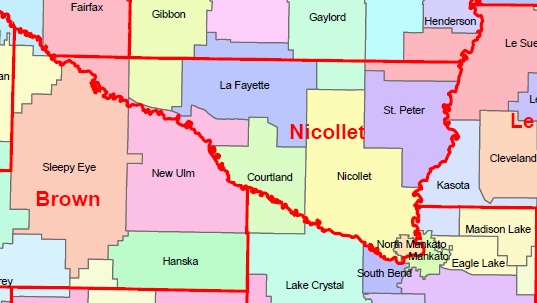 Courtland Fire Department
Fairfax Fire Department
Gaylord Fire Department
Gibbon Fire Department
Lafayette Fire Department
Le Sueur Fire Department
New Ulm Fire Department
Nicollet Fire Department
North Mankato Fire Department
Saint Peter Fire Department
Emergency Medical Services
Nicollet County is served by several Ambulance services which are based inside and outside of the County.
Allina Medical Transportation - New Ulm (ALS)
Gaylord Ambulance Service (BLS)
Gold Cross Ambulance - Mankato (ALS)
Lafayette Area Ambulance (BLS)
River's Edge EMS (Full-Time BLS / Part-Time ALS)
ARMER Migration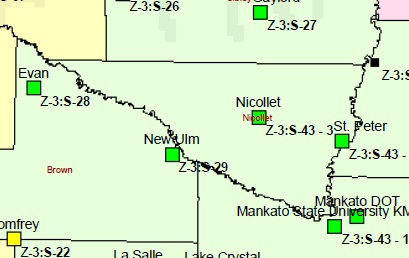 Status - Planning to Migrate to ARMER
Sites and Status:
| Site ID | Site Name | Status | Lat. | Long. |
| --- | --- | --- | --- | --- |
| 3-043 | Nicollet | | 44:21:04.3 | 94:12:35.6 |
| 3-043 | Saint Peter | | 44:18:23.8 | 93:59:06.3 |