Vertex Standard VX-600
From The RadioReference Wiki
Vertex VX-600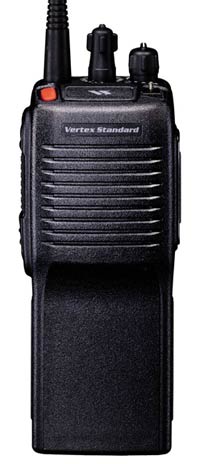 Engineered to make its advanced features easy to use, and providing the ruggedness demanded by public safety users, the VX-600 utilizes a large-capacity Lithium-Ion battery, which typically provides 14 hours of operating time (VX-600U w/FNB-V69L1). With improved scan speeds, Emergency Alert, User Selectable Tones / Codes, 48 Channel Capacity, and a host of easily programmable customization features, the VX-600 is ideal for a wide variety of public safety and commercial applications.
The VX-600 gives you the reliability and dependability you require, built to meet the punishing test procedures of MIL-STD 810 C, D, & E, as well as the highest-level Intrinsically Safe rating. With a Weather Sealed mic connector, built-in Noise Canceling Microphone, and a loud 700 mW audio output stage, this very capable and rugged package is ready to serve your communications needs.
The VX-600 was designed to be a replacement for the Motorola HT-1000. It is roughly the same size and shape, however it offers some advantages like the ability to have 48 channels and it is a lighter radio.
The VX-600 will program down into the ham bands fine with hardware or software modification.
The VX-600 will do MDC-1200, GE-Star DTMF and voice inversion encryption with the appropriate accessory boards installed.
It has an SMA antenna connector, making replacement antennas cheap and with good selection.

Return to Wiki page: Vertex Standard Radios
(No matching DB page)