Arkansas Highway Police
From The RadioReference Wiki
Arkansas Highway Police
Arkansas' First State Law Enforcement Agency
P.O. Box 2779
Little Rock, AR 72203-2779

Email: ahphq@arkansashighways.com
Central Office Annex Phone : (501) 569-2421
Fax: (501) 569-4999
Fax (Permits): (501) 569-4998
Web:http://www.arkansashighways.com/highway_police/highway_police.aspx
---
[Quoted from the Highway Police website]

In the 1929 regular session, the Arkansas General Assembly passed Act 299, which was later entitled the State Road Patrol Act. The result of the act was the assignment of administrative oversight of the Arkansas Road Patrol to the Arkansas Highway Department. The men appointed to fill the twenty allocated positions for the patrol became the first enforcement officers in Arkansas to be officially commissioned by state law. The badges issued to the officers were inscribed with, "Arkansas State Highway Police".
Through the years following the creation of the Patrol, the unit was transferred between various agencies of State Government, but it always maintained its identity, purpose, and dedication to serving the people of Arkansas. For a time, the agency was a part of the Arkansas Revenue Department, creating a working relationship that transcended all subsequent relocations of the enforcement group. Today, all Highway Police Officers carry a commission as an Agent of the Commissioner of Revenues.
In 1963, the enforcement effort that began as the State Road Patrol, once again became a part of the Arkansas Highway Department. In 1979, the Division's name was changed to the Arkansas Highway Police. In 1989, the powers and duties of the Transportation Safety Agency were transferred to the Highway Police and officers began to include enforcement of the Federal Motor Carrier Safety Regulations.
Today, the Arkansas Highway Police is a nationally recognized leader in the fields of drug interdiction, motor carrier safety and hazardous materials enforcement, and training. Highway Police officers serve as instructors for the Criminal Justice Institute, National Training Center, Transportation Safety Institute, and the Drug Interdiction Assistance Program.
The officers of the Highway Police are proud of their heritage of service to the people of Arkansas, and dedicated to upholding the high standards established for them by their predecessors.
[End Quote]
---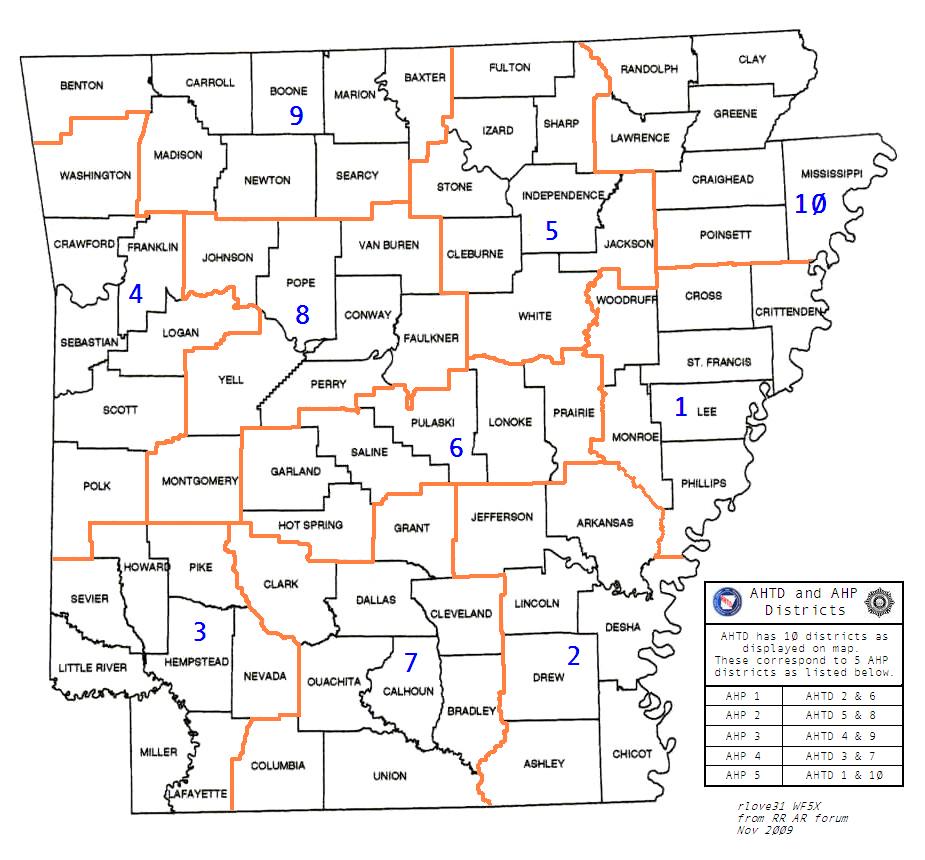 ---
Jump to AHP Talkgroup ID's in RR DB: Arkansas DOT - Arkansas Highway Police (AHP) Talkgroups
Jump to Arkansas AWIN page in RR DB: Arkansas Wireless Information Network (AWIN)



Return to Wiki pages: Arkansas (US), Arkansas State Police (AR)
(No matching DB page)