Baltimore City (MD) Police
From The RadioReference Wiki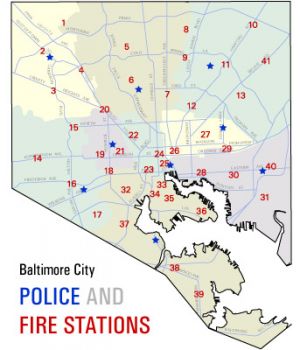 Station Locations
| No. | Division | Location |
| --- | --- | --- |
| | Headquarters | 601 East Fayette Street |
| 1 | Central | 500 East Baltimore Street |
| 2 | Southeast | 5710 Eastern Avenue |
| 3 | Eastern | 1620 Edison Highway |
| 4 | Northeast | 1900 Argonne Drive |
| 5 | Northern | 2201 West Coldspring Lane |
| 6 | Northwest | 5217 Reisterstown Road |
| 7 | Western | 1034 North Mount Street |
| 8 | Southwest | 424 Font Hill Avenue |
| 9 | Southern | 10 Cherry Hill Road |
Police IDs
First digit is district, second character is shift, third is sector and fourth is post. 6A32 would be a Northwest midnight unit in sector 3 on post 2 and 2C23 would be Southeast evening unit in sector 2 on post 3.
Lieutenants are 09 and Sergeants are 10, 20, etc., 91 and 92 are wagons and 99 is desk. So, 2C23's Sergeant would be 2C20 and his Lieutenant 2C09. If a unit gets a warrant confirmation from 2C99, then 2C91 or 2C92 would do the transport. 200 would be the district Major.
Flex and District Ops units are numbered differently. They are numbered for each district as *1** and *2**. Northwest be something like 6117 or 6234. Again any number ending in 0 is a Sergeant and 09 a Lieutenant. Any numbers over *3** are Citywide units.
58xx is Crime Lab
84xx is Accident Investigation Unit
64xx is Homicide
65xx is Violent Crimes Task Force
76xx-78xx is Tactical (including Marine, EVU and Canine)
7620-7625 is Foxtrot
7811-7812 is EVU
93xx is Parking Control
95xx is Traffic Enforcement Section (civilians that direct traffic and write tickets)
96xx is Baltimore City Sheriff
97xx is Housing Authority of Baltimore City Police
98xx is Baltimore City Sheriff
99xx is Baltimore City Public Schools Police
10 Codes
All 10 codes, signals and disposition codes used by the Baltimore Police Department are also used by the following agencies: Housing Authority of Baltimore Police, Baltimore City Sheriff, Baltimore School Police, Public Works Traffic Enforcement Section (TES), Parking Control.
10-1 signal check
10-2 signal good
10-3 signal poor
10-4 acknowledgment/yes/okay
10-5 no aknowledgment
10-6 standby
10-7 out of service
10-8 in service
10-9 repeat last transmission
10-11 meet me at ______
10-12 no units available
10-14 non-emergency prisoner transport
10-15 emergency prisoner transport
10-16 backup request
10-17 phone station
10-18 go to district station
10-19 call ______
10-20 location
10-22 disregard
10-23 arrived on scene
10-25 stopping suspicious vehicle
10-26 switch to citywide channel (talkgroup)
10-27 drivers license info request
10-28 request vehicle registration information
10-29 check criminal records
10-30 wanted (person or vehicle)
10-31 crime in progress
10-32 sufficient units on scene
10-33 emergency
10-34 civil disturbance
10-35 major crime alert
10-36 description
10-37 request tow
10-38 request ambulance
10-39 police vehicle disabled
10-40 request crime lab
10-41 request impound truck
10-42 request animal shelter
10-43A traffic signal out
10-43B traffic signal red out
10-43C traffic signal not changing
10-43D traffic sign down
10-44 request permission to ______
10-45 permission denied
10-46 permission granted
10-47 negative
10-48 affirmative
10-50 helicopter landing
10-50-green Foxtrot okay
10-50-amber Foxtrot emergency
10-50-red Foxtrot down (crash)
10-61 activating body worn camera
10-62 deactivating body worn camera
10-90 looting
10-91 shooting
10-92 continued looting
10-93 continued shooting
Signal codes
Signal 13 officer needs assistance (urgent)
Signal 30 property damage accident
Signal 31 personal injury accident
Signal 32 accident with fatality
Signal 34 departmental accident
Signal 35 departmental accident with injury
Signal 36 departmental accident with fatality
Signal 40 Fire Department Needs Assistance
Disposition codes
Adam No - Unfounded
Baker No - No Such Address
Charlie No - Unable to locate complainant
David No - No Police Services Needed
Edward No - Gone on Arrival
Frank No - Abated
Xray No - Report number needed
Xray Yes - Domestic related and report number needed
Zebra No - False Alarm
Related Pages