Baltimore County (P25) System Information
From The RadioReference Wiki
System Information
The database entry for this system is here
Linear Simulcast Modulation
Baltimore County's new Motorola P25 7.x system employs an RF simulcast method known as Linear Simulcast Modulation. This technology supposedly enhances a subscriber radio's ability to overcome digital simulcast multipath distortion by shaping the digital packet waveforms using CQPSK (Compatible Quadrature Phase Shifting Key) modulation. Because of this, if the digital packets arrive at a subscriber radio from multiple transmitters out of sync, the radio is able to organize them and decode them without distortion.
Because scanners are not readily prepared to capture digital packets with these modified shapings, scanners have trouble decoding the packets. This can hold true not only for voice signals, but also control channel signals. This is why you may be in a solid coverage footprint area, but not receiving the system signals in a clear manner.
Baltimore County Fire Department talk group assignments
The Baltimore County Fire Department is divided into three battalions. The first battalion encompass the central and northern portions of the county, and is bordered to the west by Falls Road, and to the east by Harford Road. The second battalion is the west battalion and is all points west of Falls Road. The third battalion is the east battalion and is all points east of Harford Road. Each battalion is assigned two complete sets of fire ground talk groups, allowing each incident to have a primary operations talk group, an incident command talk group, seven expansion talk groups, and an announcement call talk group. As an incident with a battalion chief is dispatched, the operations for that incident are assigned to the TAC x2 talk group for that battalion. If the incident escalates and the need for multiple tactical and IMS talk groups are needed, "command net" is instituted and the incident commander will use the TAC x1 talk group, while the incident functions can expand to the TAC x3 thru TAC x9 talk groups. Typically, operations will remain on the TAC x2 talk group, eliminating the need for the people "in the trenches" to change their radio. The announcement call talk group (AC x0) allows commanders to use regroup logic to make transmissions over all the TAC talk groups assigned to that set.
Here is a sample for the first battalion's first set of fire ground talk groups. The Bxx is the position of the talk group in the portable radio. For example, the first talk group is located in ZONE B, and knob position 12.
9460 B12 AC 10 Announcement Call for TAC 11 thru TAC 19
9461 B11 TAC 11 Command NET talk group
9462 B3 TAC 12 Primary operations talk group
9463 B4 TAC 13 First expansion talk group
9464 B5 TAC 14 Second expansion talk group
9465 B6 TAC 15 Third expansion talk group
9466 B7 TAC 16 Fourth expansion talk group
9467 B8 TAC 17 Fifth expansion talk group
9468 B9 TAC 18 Sixth expansion talk group (typically used for EMS)
9469 B10 TAC 19 Ninth expansion talk group (typically used for HAZMAT)
The first battalion is assigned AC 10 thru TAC 19 and AC 60 thru TAC 69.
The second battalion is assigned AC 20 thru TAC 29 and AC 50 thru TAC 59.
The third battalion is assigned AC 30 thru TAC 39 and AC 40 thru TAC 49.
There are two sets of spares, AC 70 thru TAC 79 and AC 80 thru TAC 89.
AC 110 thru TAC 119 and AC 120 thru TAC 129 are currently not regularly assigned, and used for site trunking and failsoft conditions.
Other Talk groups
9455 A3 ADO is Administrative Duty Officer
9456 A8 ADM is Admin
9457 A4 SUP is Supply and Maintenance
9458 A2 EMS is EMS Supervisor
9459 A5 DFM is the Deputy Fire Marshal
Single-Zone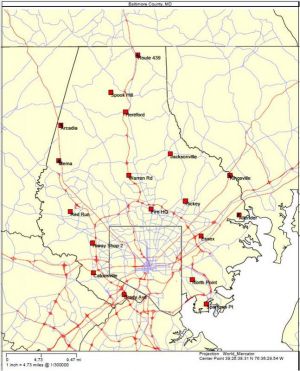 Baltimore County TRS is no longer a two-zone system as of 2020. All tower sites transmit the same signal.
The tower sites are as follows:
Towson (Old Fire Station #1 now Towson Station Shopping Center)
Woodlawn (county highways shop on Windsor Mill Rd)
Hunt Valley (on Warren Rd east of I83)
Cub Hill (on the grounds of Hickey School for Boys)
Kingsville (Belair Rd at Harford County line)
Allender (Eastern Sanitary Landfill on Days Cove Rd)
Essex (rooftop site at CCBC Essex mid-rise building)
Northpoint (Precinct 12)
Sparrows Point (Fire Station #57)
Halethorpe (county highways shop on Brady Ave near Washington Bl and I695)
Catonsville (northwest corner of Rt. 40 & Rolling Rd)
Red Run (New Towne High School in Owings Mills)
Arcadia (Upperco Volunteer Fire Company carnival grounds)
MEMA (Camp Fretterd military reservation in Reisterstown)
Jacksonville (Jacksonville Elementary School)
Maryland Line (Rt. 439 just east of I83)
Hereford (state highways yard on Mt. Carmel Rd just east of I83)
Spookhill (at the city water facility on Prettyboy Reservoir)
There are a handful of talk groups that appear to be reserved for a condition called "site trunking." Site trunking is a fallback function that occurs when a remote site such as the northern towers (Maryland Line, Hereford, and Spookhill) lose contact with the system controller, causing wide area calls (calls over multiple sites) to fail. If this were to occur, users on the "detached" towers would revert to talk groups specific to that site, allowing users to continue to communicate within the footprint of the site. Dispatchers may also continue to connect with the site via some sort of RF link or back-up microwave path.
Thanks to ocguard in this thread for this information