Calhoun County (IL)
From The RadioReference Wiki
County #007/17013 Population 5322 (1990) 253.8 sqm Neighboring Counties: Pike, Jersey, Greene, St. Charles MO, Lincoln MO, Pike MO
Calhoun County Public Safety
Sheriff's Department
Sheriff - Dispatches all Police, Fire and EMS agencies in the county. (some dispatch by 911 Center/West Central Dispatch in Jacksosnville/Morgan County, as of 2018)
154.235/156.165/156.105 - may not be in use as they once were. Most ops Now on 151.1075 and 156.165
WNZA819 - 159.3375 Repeater with 155.8725 input (NFM at 1 mi W of Hardin for Sheriff; not currently in use)
Dispatches all Police, Fire & EMS agencies in the county.
(Formerly used the High Band repeater (shared with Highway Department) but uses low band for Mobile Extenders and when the Highway Department needs to use the repeater)
Sheriff's Department serves all municipalities in the county. Hardin PD is only Part-time.
Old Low Band - No Longer in use
 39.50000  156.16500  KDJ430 	M  047 DPL  Calh SD MX    Sheriff: Mobile Extenders
                                                              (VHF Portable to car, out on 39.5)   FM  Law Tac 
 39.50000             KDJ430 	BM 047 DPL  Calh SD 39.5  Sheriff: Back-up/Secondary/Car-to-Car
                                                              /Link to Greene County Sheriff       FM  Law Tac 
 39.12000             KDJ430 	B  047 DPL  Calh SD LB-B  Sheriff: Old Low Band (Base to Mobile)   FM  Law Tac 
 39.94000             KDJ430 	M  047 DPL  Calh SD LB-M  Sheriff: Old Low Band (Mobile to Base)   FM  Law Tac 
 39.38000             KDJ430 	M           Calh SD LB-C  Old Sheriff Car-to-Car [Expired]         FM  Law Tac 
 39.46000             KDJ430 	B  CSQ      S/W P2P Low   Old Point-to-Point                       FM  Law Tac 
453.41250  458.41250  WNZA819 	M           Calh SD RF1   Remote Receive Links [No longer in use]  FM  Deprecated

Law Units
"CL"-("See-El") CL-1,2,3,4,5,8 (9 used to be Ambulance) (these may be old)
Unit 119 on 151.1075 (4/21)
Hardin 1, 2
Calhoun County Ambulance
Calhoun South EMT Unit (Brussels/Batchtown)
Calhoun Central EMT Unit (Hardin)
Calhoun North EMT Unit (Kampsville)
Ambulance Units: 3J11, 3J12, 3J14 --Uses Cellular Pagers
Calhoun Medical Center (Hardin)
8/12 - Old hospital, formerly associated with Illini Medical Group, near closing, very little support, doctors or money left in this rural area

Heliport 36LL (123.05 RDO-CTL) only approved for daylight conditions due to terrain in area
Calhoun County Volunteer Fire Departments
All Fire Deptartments are volunteer, members of MABAS-IL Division 67, and use MABAS interoperable fire-ground tactical frequencies.
Point FPD - (South-Brussels)
Hardin (Central)
Richwoods FPD (Batchtown)
North Calhoun FPD (Kampsville)
Hardin
Hardin Fire Protection District
Maps and Images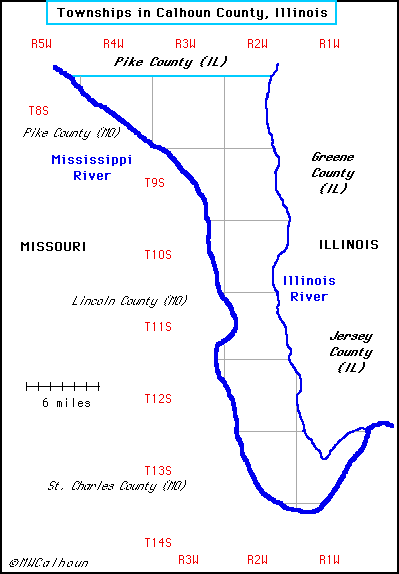 Calhoun Medical Center (Hardin)
8/12 - Old hospital, formerly associated with Illini Medical Group, near closing, very little support, doctors or money left in this rural area
Heliport 36LL (123.05 RDO-CTL) only approved for daylight conditions due to terrain in area
Schools
Brussels Community Unit School District 42
Calhoun Community Unit School District 40
possibly an intercom or wireless mic 170.15 162.2
Businesses
Weigel Farms 151.775 Base/Mobile (Golden Eagle) WNPQ671

Return to DB page: Calhoun County (IL)
Return to Wiki page: Illinois Counties