Capital Digitronics (Capital District Public Safety) Site Information
From The RadioReference Wiki
All nine of the sites listed below are maintained by Capital Digitronics, but other
entities own some of the FCC licenses as shown.   Where multiple site numbers are shown
separated by a slash, the user has been monitored simulcasting on the sites listed.
Where the site numbers are separated by a comma, the first site listed appears to be
the primary site used and no simulcasting has been observed.

Sites 0001, 0002, and 0004 are part of a multisite simulcast trunked network operated
by Capital Digitronics.  Sites 0003, 0005, and 0006 operate independently and are 
licensed to other entities.  The City of Troy can use Site 0001 as a backup if their
own system fails.  Time Warner is the only entity so far that has been observed
simulcasting on their own site along with the Capital Digitronics sites.

Sites 0007, 0008, and 0009 are licensed to Rensselaer County and were originally
supposed to be part of their LTR-MultiNet trunked system.  However, starting in 2003,
these three frequencies began emitting EDACS-SCAT (Single Channel Autonomous Trunking)
signals.  Site 000A went live in 2008.  These sites are carrying fire and EMS MDT 
traffic.  Site 0007 is not SCAT; it has two channels.

Sites Map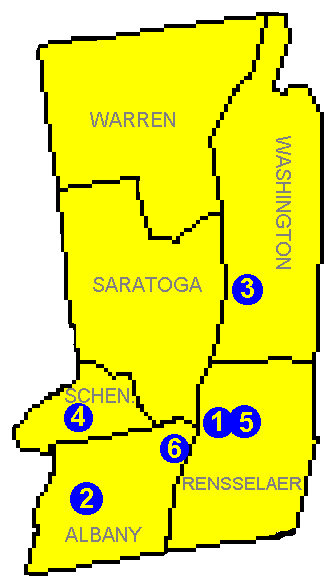 With thanks to NF2G.com