Central Nevada Interagency Dispatch Center (NV)
From The RadioReference Wiki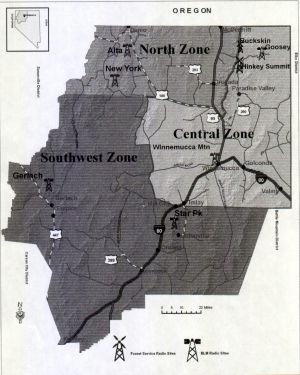 Central NV Interagency Dispatch Center

http://gacc.nifc.gov/wgbc/dc/nvcnc

http://www.blm.gov/nv/st/en/fo/wfo/blm_programs/Fire_and_Aviation/CNIDC.html

The Central Nevada interagency Dispatch Center services the Winnemucca and Battle Mountain Bureau of Land Management (BLM) Districts, the Santa Rosa, Austin, and Tonopah Ranger Districts of the Humboldt-Toiyabe National Forest, the Bureau of Indian Affairs (BIA), and the U.S. Fish and Wildlife Service (USFWS).
The center is hosted by the Winnemucca District and is located at the Winnemucca Municipal Airport, next to the Winnemucca BLM Retardant Base.
Winnemucca District
North Zone Channels
| | | | | | | |
| --- | --- | --- | --- | --- | --- | --- |
| Channel # | Rx Freq | Rx Tone | Tx Freq | Tx Tone | Description | Confirmation/Re-Confirmation |
| 01 | 169.9750 | | 171.4250 | 110.9 | Command 1 / FS Buckskin Repeater | |
| 02 | 172.5750 | 103.5 | 164.7250 | 114.8 | Command 2 / BLM New York Repeater | |
| 03 | 173.8250 | 103.5 | 166.2375 | 151.4 | Command 3 / BLM Alta Repeater | |
| 04 | 171.6750 | | 171.6750 | 114.8 | Tactical 1 / BLM SOA | |
| 05 | 168.2000 | | 168.2000 | | Tactical 2 / FS Tac 2 | |
| 06 | 159.3450 | | 159.3450 | | Tactical 3 / NDF Red | |
| 07 | 154.2800 | | 154.2800 | 146.2 | Tactical 4 / White 1 | |
| 08 | 154.2650 | | 154.2650 | 146.2 | Tactical 5 / White 2 | |
| 09 | 168.4875 | | 168.4875 | | Air-Ground - A/G 53 | |
| 10 | 166.8000 | | 166.8000 | | Air-Ground - A/G 06 | |
| 11 | | | | | | |
| 12 | 172.5750 | 103.5 | 164.7250 | 123.0 | Command 4 / BLM Goosey Repeater | |
| 13 | | | | | | |
| 14 | | | | | | |
| 15 | | | | | | |
| 16 | 169.9750 | | 169.9750 | | Command 5 / FS Hinkey Simplex | |
Central Zone Channels
| | | | | | | |
| --- | --- | --- | --- | --- | --- | --- |
| Channel # | Rx Freq | Rx Tone | Tx Freq | Tx Tone | Description | Confirmation/Re-Confirmation |
| 01 | 172.5750 | 103.5 | 164.7250 | 203.5 | Command 1 / BLM Winnemucca Repeater | |
| 02 | 173.8250 | 103.5 | 166.2375 | 110.9 | Command 2 / BLM Sonoma Repeater | |
| 03 | 172.5750 | 103.5 | 164.7250 | 123.0 | Command 3 / BLM New York | |
| 04 | 171.6750 | | 171.6750 | 114.8 | Tactical 1 / BLM SOA | |
| 05 | 168.2000 | | 168.2000 | | Tactical 2 / NIFC Tac | |
| 06 | 159.3450 | | 159.3450 | | Tactical 3 / NDF Red | |
| 07 | 154.2800 | | 154.2800 | 146.2 | Tactical 4 / White 1 | |
| 08 | 154.2650 | | 154.2650 | 146.2 | Tactical 5 / White 2 | |
| 09 | 166.8000 | | 166.8000 | | Air-Ground A/G 06 | |
| 10 | 168.4875 | | 168.4875 | | Air-Ground A/G 53 | |
Southwest Zone Channels
| | | | | | | |
| --- | --- | --- | --- | --- | --- | --- |
| Channel # | Rx Freq | Rx Tone | Tx Freq | Tx Tone | Description | Confirmation/Re-Confirmation |
| 01 | 172.5750 | 103.5 | 164.7250 | 186.2 | Command 1 / BLM Star Repeater | |
| 02 | 173.8250 | 103.5 | 166.2375 | 173.8 | Command 2 / BLM Gerlach Repeater | |
| 03 | 173.8250 | 103.5 | 166.2375 | 131.8 | Command 3 / BLM Toulon Repeater | |
| 04 | 171.6750 | | 171.6750 | | Tactical 1 / BLM SOA | |
| 05 | 168.2000 | | 168.2000 | | Tactical 2 / NIFC Tac | |
| 06 | 159.3450 | | 159.3450 | | Tactical 3 / NDF Red | |
| 07 | 154.2800 | | 154.2800 | 146.2 | Tactical 4 / White 1 | |
| 08 | 154.2650 | | 154.2650 | 146.2 | Tactical 5 / White 2 | |
| 09 | 168.4875 | | 168.4875 | | Air-Ground A/G 53 | |
| 10 | 166.8000 | | 166.8000 | | Air-Ground A/G 06 | |
Area Wide Channels
| | | | | | | |
| --- | --- | --- | --- | --- | --- | --- |
| Channel # | Rx Freq | Rx Tone | Tx Freq | Tx Tone | Description | Confirmation/Re-Confirmation |
| 01 | 127.2250 | AM | 127.2250 | AM | Air-Air / AA1 | |
| 02 | 133.8750 | AM | 133.8750 | AM | Air-Air / AA2 | |
| 03 | 171.6750 | | 168.2250 | 110.9 | SOA Repeater / WMCA SOA On-Scene Repeater | |
Battle Mountain District
North Zone Channels
| | | | | | | |
| --- | --- | --- | --- | --- | --- | --- |
| Channel # | Rx Freq | Rx Tone | Tx Freq | Tx Tone | Description | Confirmation/Re-Confirmation |
| 01 | 171.7250 | 110.9 | 171.7250 | 110.9 | Command 1 / Battle Mountain Local | |
| 02 | 171.7250 | 110.9 | 164.8375 | 110.9 | Command 2 / BLM Calaghan Repeater | |
| 03 | 171.7250 | 110.9 | 163.8375 | 136.5 | Command 3 / BLM Prospect Repeater | 2013.06.29 |
| 04 | 169.8750 | | 170.4750 | 131.8 | Command 4 / HTF Austin Repeater | |
| 05 | 171.6750 | | 171.675 | 114.8 | TAC 1 - BLM SOA | |
| 06 | 167.5250 | | 167.5250 | | Air-Ground A/G 15 | |
| 07 | 166.6375 | | 166.6375 | | Air-Ground A/G 02 | 2013.06.29 |
Central Zone Channels
| | | | | | | |
| --- | --- | --- | --- | --- | --- | --- |
| Channel # | Rx Freq | Rx Tone | Tx Freq | Tx Tone | Description | Confirmation/Re-Confirmation |
| 01 | 169.8750 | | 170.4750 | 131.8 | Command 1 / HTF Austin Repeater | |
| 02 | 171.7250 | 110.9 | 164.8375 | 110.9 | Command 2 / BLM Calaghan Repeater | |
| 03 | 171.7250 | 110.9 | 164.8375 | 136.5 | Command 3 / BLM Prospect Repeater | 2013.06.29 |
| 04 | 169.8750 | | 170.4750 | 156.7 | Command 4 / TNF Bunker Hill Repeater | |
| 05 | 169.8750 | | 170.4750 | 123.0 | Command 5 / HTD Bald Repeater | |
| 06 | 169.8750 | | 170.4750 | 167.9 | Command 6 / HTF Jefferson Repeater | |
| 07 | 169.8750 | | 170.4750 | 110.9 | Command 5 / HTF Mahogany Repeater | |
| 08 | 169.8750 | | 170.4750 | 136.5 | Command 6 / HTF Brock Repeater | |
| 09 | 171.7250 | 110.9 | 164.8375 | 110.9 | Command 7 / Warm Springs Repeater | |
| 10 | 171.7250 | | 171.7250 | 110.9 | Command 8 / Booker Direct | |
| 11 | 171.6750 | | 171.6750 | 114.8 | BLM Tac 1 SOA | |
| 12 | 166.6375 | | 166.6375 | | Air-Ground A/G 02 | 2013.06.29 |
| 13 | 167.5250 | | 167.5250 | | Air-Ground A/G 15 | |
Southwest Zone Channels
| | | | | | | |
| --- | --- | --- | --- | --- | --- | --- |
| Channel # | Rx Freq | Rx Tone | Tx Freq | Tx Tone | Description | Confirmation/Re-Confirmation |
| 01 | 171.7250 | | 171.7250 | 110.9 | Command 1 / Booker Direct | |
| 02 | 169.8750 | | 170.4750 | 136.5 | Command 2 / HTF Brock Repeater | |
| 03 | 171.7250 | 110.9 | 164.8375 | 123.0 | Command 3 / Warm Springs Repeater | |
| 04 | 171.7250 | 110.9 | 164.8375 | 131.8 | Command 4 / Mohawk Repeater | |
| 05 | 171.7250 | 110.9 | 164.8375 | 146.2 | Command 5 / Sawtooth Repeater | |
| 06 | 171.6750 | | 171.6750 | 114.8 | TAC 1 / BLM SOA | |
| 07 | 166.6375 | None | 166.6375 | None | Air/Ground 02 - Primary | |
| 08 | 167.5250 | None | 167.5250 | None | Air/Ground 15 - Secondary | |
Area Wide Channels
| | | | | | | |
| --- | --- | --- | --- | --- | --- | --- |
| Channel # | Rx Freq | Rx Tone | Tx Freq | Tx Tone | Description | Confirmation/Re-Confirmation |
| 13 | 171.6750 | | 168.2250 | 167.9 | SOA Repeater | |
Related Links