Combat Air Patrols
From The RadioReference Wiki
The Combat Air Patrol (CAP) covering Washington D.C. and/or the Thurmont (Camp David) area is known as the Guard Dog CAP. Notices about CAPs can be found here - look at entries marked ZDC in the facility column. The sector map can be seen at the right (click to enlarge - thanx Tinear).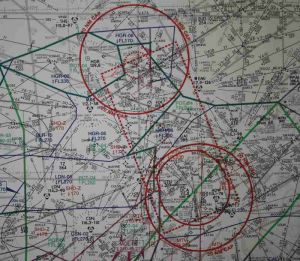 Here are the units with callsigns that participate in CAP duty (with the associated callsigns):
Unit
Callsign(s)
DC ANG 113th Fighter Wing, 121st Fighter Squadron
BRAVE
NJ ANG 177th Fighter Wing, 119th Fighter Squadron
COSMIC
Eglin AFB FL 58th Fighter Squadron, 33rd Fighter Wing
ARROW
Shaw AFB SC 79th and 77th Fighter Squadrons, 20th Fighter Wing
PITTMAN
Joint Base Langley–Eustis (LFI) Hampton City (VA) 27th Fighter Squadron
HARASS
Vermont ANG based at Langley
MAPLE
Seymour Johnson NC 334th Fighter Squadron/4th Fighter Wing
RAMROD
Langley 94th Fighter Squadron
RAPTOR (old),
SONIC (CAP 11/2007, 2009 Inauguration)
112th FS/180th FW, OH-ANG Toledo
MUDDY, during the 2009 Inauguration
Guidance during the Guard Dog CAP is provided by North American Aerospace Defense Command (NORAD) Eastern Air Defense Sector(EADS) using callsign HUNTRESS The CAP is normally comprised of two F-15 or F-16 fighters and a KC-135 tanker for refueling support. A pair of F-22A Raptor fighters participated in Dec 2006, May 2007, Nov 2007, Dec 2007, and Feb 2008.
Frequencies
All frequencies noted here are in AM mode
Joint Base Andrews (ADW) Prince George's County (MD) is often used for a refuel stop ,a maintenance problem or if bad weather develops
HUNTRESS frequencies most often used for primary CAP control are 228.9000 and 260.9000. These frequencies have also been used for refueling.
DC-ANG will often use 139.7000 as primary CAP freq. This freq is also used by HUNTRESS to work BLACKJACK (USCG helo) units
NJ-ANG has been known to use 138.2000 as primary CAP freq
Refueling is often performed on the primary frequency; in the past, it had been on a separate boom freq. The boom freq is normally stated at the beginning of the CAP. See the bottom of this article for a summary of freqs used in the past.
The fighters and the tanker get clearance to enter/exit the CAP area using Guard Dog (Washington Center) special frequencies of 135.5250 / 350.2500 (primary) or 126.5500 / 269.5000 (secondary).
VT-ANG units have been noted on:

125.1250 Supervisor of Flight
138.0000 Ops
138.5250 Ops
238.2500 Air-air interflight

Shaw AFB (PITMAN) units have been noted on the following freqs:

79th Fighter Squadron (Tigers)
138.0250 last noted Jan 2006

138.1500 possibly V-8

141.6000 possibly V-9

141.7750 possibly V-10

142.1250 possibly V-11 June 2006

236.5500 brief use June 2006

77th Fighter Squadron (Gamblers)
139.8250 V-8 used Jan, March 2007, 138.8250 hrd Dec.2006; 143.8000 hrd Sept 2006

138.0250 V-9 used Jan 2007, 141.750 used Sept.2006, Oct 2006 CAP

140.3750 V-10 used Sept.2006 during NYC CAP, Oct 2006 CAP

141.6750 V-11

138.9000 V-12 used Jan 2007 139.925 used Sept.2006


Eglin AFB (ARROW) units have been noted:

338.7500
369.1500 Mar.09 CAP
259.5500 Nov 2007 CAP
320.9500 Feb.08 CAP '15 Prime', Mar.09 CAP low use
316.4500 Feb.08 CAP
305.4500 Feb.08, Mar.08 CAP
253.7000 Feb.08 CAP
326.4750 Mar.08 CAP
276.5500 Inauguration 2009
257.3500 Inauguration 2009

MUDDY units have used 143.8500 for interflight during the 2009 Inauguration
Mountain Home AFB (F-15C/D 366th FW/390th FS TDY Langley AFB; callsign: CLAW) manned the Guard Dog CAP over the Thanksgiving 2008 holiday weekend Ops and A/A freqs noted:

276.6250
276.6750
357.1000 (callsign: CLAW OPS)
360.1500 (Langley interflight freq)
NOTE: common ZDC freq for units TDY Langley arriving from the south is ZDC-Calvert 281.4000.

May 2007 RAPTOR units noted on 315.8500 as a chitchat and talking to Guard Dog on 126.5500. They later reverted to the usual 135.5250 for Guard Dog. 350.2500 was used throughout.
July and September 2007 HARASS fighters used 360.1500 for interflight
July 2007 RAMROD fighters the following were used for interflight:

300.1250
300.2250
300.3250
300.4250
301.3250
301.5250
302.0750
303.0000

As of 1st October, the United States Coast Guard has taken over responsibility for low flying and slower a/c violating the ADIZ in this region
Flights and Tankers will often use the Nationwide FSS frequency 255.4000 to get weather and other information from Leesburg Radio
Also check the UHF frequencies of the following for flights arriving/leaving the CAP;
Other Refueling freqs noted in the past
6.76100 HF USB 'Tanker Common'
123.5250 Naval Refueling
139.8750 Tankers interplane
143.8250 Tankers Interplane
148.0500 Tankers Interplane
228.0000 AR-777
234.5000 Refueling ops Duke MOA
235.1000 Refueling ops AR206/328
236.2500 Aerial refueling
238.9000 AR-212/AR-636
252.8000 Tanker/refueling Aug 2007
349.7000 AR20 secondary
266.4000 Tanker/refueling Aug 2007
266.5000 Andrews 756th ARS Interplane
270.1500 Used briefly during Xmas 2007 CAP
274.4500 AR218/220
276.5000 Refueling ops AR216/609
277.3500 CAP Refueling
282.7000 AR Secondary
283.9000 AR-217/AR-616
288.0000 BLUE24 refueling
293.7000 STEEL interplane
294.8000 Boom Freq tanker from McGuire
295.8000 AR-631
299.9000 Refueling discrete noted June 06
303.0000 108th Refueling Wing @McGuire
303.1250 AR18V Cherry Pt
341.7500 AR-20
305.5000 AR-219
311.0000 CP Common - in the immediate Mid-Atlantic area most commonly used by the 171st ARW PA ANG Pittsburgh (callsign: STEEL) and 916th ARW/77th ARS (AFRC) Seymour Johnson AFB (callsign: BACKY).
311.5750 AR18V Cherry Pt
315.9000 AR-777 Secondary
319.7000 Tanker secondary/AR-636
320.4500 AR W-386 Test Track
320.6000
324.0000
324.6000 AR-204/AR-207
327.6000 Refueling AR-205
327.9000 Refueling noted during Sept 06 CAP over NYC
339.6000 Refueling ops Aug 2007
341.7500 Aerial refueling
343.5000 Refueling AR-608
346.2500 Marine Refueling
348.9000 AR-206H Refueling
351.2000 Andrews 756th ARS
365.7000 Aerial Refueling
387.8000 Aerial Refueling
387.9000 Tanker Boom freq
396.2000 A/A Refueling for Europe-USA flight June 2006

Also check out the following;
Thanks to TinEar for the writeup