Department of Highways (WV)
From The RadioReference Wiki
WVDOH District Map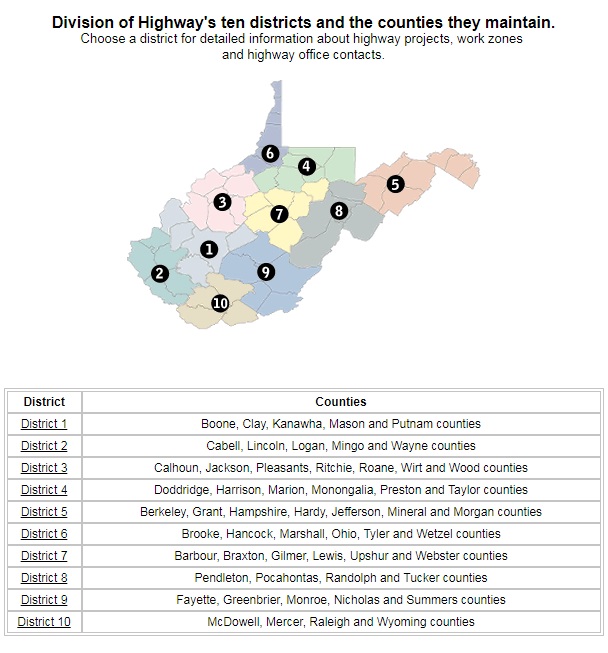 WVDOH Relays by District
The relays that have been confirmed as in use can be found in the RadioReference Database.
It is important to keep in mind that some of these relays may not be in use. Some may have been in use in the past but may now be decommissioned, and some may never have been put into service.
Not all scanners can pick up the 70 Mhz frequencies. A lot of Uniden scanners have coverage across 70 Mhz as well as some higher end communications receivers.
It is also confusing what you may hear on these relays. You may only hear one side of the conversation or you may not hear the party that you expecting to hear. To be thorough, you'll want to listen on the normal 47 mhz frequency for your area as well as the low and high sides of the relay pair in order to make sure you're hearing as much as you can possibly can for your particular area.


DISTRICT 1 - KANAWHA, BOONE, CLAY, MASON, PUTNAM

KANAWHA
-------
 72.66   /  75.66	KQD428 / KNGS427
 75.80   /  72.54	KQD428 / KNGS427
 - Bee Mtn Relay

-------------------------------------------------------------

DISTRICT 2 - CABELL, LINCOLN, LOGAN, MINGO, WAYNE

CABELL
------
 75.80   /  72.54	WNCD282 / WGQ249 / WGJ818 / KQB524
 72.68   /  75.70	KQB524
 - Barkers Ridge Relay

LOGAN
------
 72.76   /  75.76	WPKG818
 - Ward Dock Relay

-------------------------------------------------------------

DISTRICT 3 - WOOD, CALHOUN, JACKSON, PLEASANTS, RITCHIE, ROANE, WIRT

WOOD
----
453.000  / 458.000	KQD270
 - Red Hill Relay (Rt 50)

WIRT
----
453.750  / 458.750	WPHI694
 - Elizabeth Hill Relay

-------------------------------------------------------------

DISTRICT 4 - HARRISON, DODDRIDGE, MARION, MONONGALIA, PRESTON, TAYLOR

HARRISON
--------
453.000  / 458.000	KNGP953 / KNGP954 / KNGP955
 - Davis Mtn Relay

DODDRIDGE
---------
453.650  / 458.650	KQF783
 - Relay at int of Old US-50 and Jockey Camp (CR 30/3)

PRESTON
-------
453.200  / 458.200	WNHI623
 - Caddell Mtn Relay

MARION
------
453.750  / 458.750	WNZP990
 - Idamay Relay (off Rt 218)

TAYLOR
------
453.900  / 458.900	WPEX797
 - Grafton City Hospital Relay

-------------------------------------------------------------

DISTRICT 5 - MINERAL, BERKELEY, GRANT, HAMPSHIRE, HARDY, JEFFERSON, MORGAN

MINERAL
-------
 75.80   /  72.54	WNCM209 / KQF39 / KQE69 / WNNQ287 / WNIH741
 - from New Creek (US Rt 50)

BERKELEY
--------
453.9625 / 458.9625	WPIC547
 - North Mtn Relay

HARDY
-----
451.375  / 456.375	WNRU479
 - South Branch Mtn Relay

MORGAN
------
453.700  / 458.700	WPCI483
 - Cacapon Ridge Relay

HAMPSHIRE
---------
453.350  / 458.350	WNNQ287
 - Bald Mtn Relay

-------------------------------------------------------------

DISTRICT 6 - MARSHALL, HANCOCK, BROOKE, OHIO, TYLER, WETZEL

WETZEL
------
451.150  / 456.150	WNHW738 / WNHW739
 - Whiteman Hill Relay

TYLER
-----
451.150  / 456.150	WNNS989 / WPAS607
 - Smith Ridge Relay

-------------------------------------------------------------

DISTRICT 7 - LEWIS, BARBOUR, BRAXTON, GILMER, UPSHUR, WEBSTER

LEWIS
------
451.375  / 458.375	WNKH960
 - Sugarloaf Mtn Relay

BARBOUR
-------
453.400  / 458.400	WPCS967
 - Phillipi/Barbour Co Fairgrounds Relay

UPSHUR
------
 75.80   /  72.54	WNCD294 / WNZL513
 - Tallmansville Rd Relay

-------------------------------------------------------------

DISTRICT 8 - RANDOLPH, PENDLETON, POCAHONTAS, TUCKER

RANDOLPH
--------
453.050  / 458.050	WPCS970
 72.12   /  75.70	WPEP776
 - Rich Mtn / Haines Knob Relay

PENDLETON
---------
453.350  / 458.350	WPEE547
 - North Mtn Relay

POCAHONTAS
----------
 72.02   /  75.94	WPDZ650
 - Sharps Knob Relay

-------------------------------------------------------------

DISTRICT 9 - GREENBRIER, FAYETTE, SUMMERS, MONROE, NICHOLAS

SUMMERS
-------
 75.58   /  72.32	WNCD290 / WNSV575 / WPBR564 / WNLZ995 / WNKK359
 75.80   /  72.54	WNCD290 / WNSV575 / WPBR564 / WNLZ995 / WNKK359
 - Kenney Mtn Relay

MONROE
------
453.700  / 458.700	WPJV555
 - Bickett Knob Relay

NICHOLAS
--------
453.150  / 458.150	WPES440
 - Cottle Knob Relay

-------------------------------------------------------------

DISTRICT 10 - MERCER, MCDOWELL, RALEIGH, WYOMING

MERCER
------
 72.24   /  75.66	WNCD278
 75.80   /  72.54	WNCD278
 - Pilot Knob Relay

 72.24   /  75.66	WPJW518
 75.80   /  72.54	
 - Flat Top Mtn Relay