Freescan Edit functions
From The RadioReference Wiki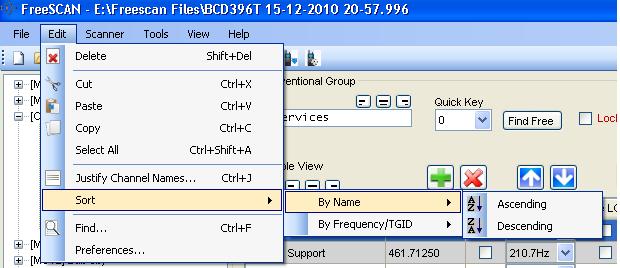 Delete (Shift/Del)
Make sure that the cursor is on the object (a system, site or group) before using this function. You will be asked to confirm the action before deleting.
Justify Channel Names (CTRL-J)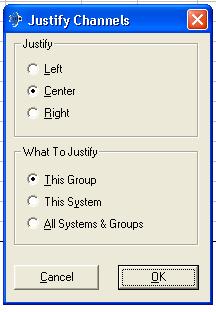 Use this function to justify (align) all the alpha characters associated with talkgroups and frequencies. If you wish to justify names in a specific group or system, the cursor must be on that group or system in the System View (the leftmost area shaded in white).
Sorting Talkgroups/Frequencies
Use this function to sort Alpha tags, talkgroups or frequencies in a group in either ascending or descending order. To change the sort sequence for systems, please see that topic in The View pulldown.
Preferences
Click on the image to enlarge

Alternate Color in Grid Editors Alternates the color of the lines in the editor between grey and white. See the example above
Use Canadian Bias - When you connected to RR's web service via FreeSCAN, having it enabled will automatically make FreeSCAN default to Canada.
Use Blind Friendly Mode - Adds an additional Action pulldown in the toolbar with various keystroke shortcuts. These keystrokes are defined here
Force Control Channel Output Mode to Off XT scanners only - If you were previously using Control Channel Output (CCO) to a program like UniTrunker, this option forces CCO to be off. Without this, the scanner will not connect to FreeScan.
Return to the FreeScan User Guide